2015 News
Tequila Patrón ESM Enters 12 Hours of Sebring with Honda ARX-03b Prototypes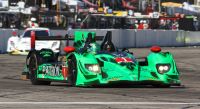 Riviera Beach, Fla., –  Tequila Patrón ESM returns to the tried and true Honda Performance Development (HPD) ARX-03b prototypes for the TUDOR United SportsCar Championship race at Sebring International Raceway next weekend. The two-car team returns to its race-winning open cockpit prototypes for the second round of the TUDOR Championship and second race of the Tequila Patrón North American Endurance Cup.

Tequila Patrón ESM first raced the HPD ARX-03b Honda prototypes in the 2013 season of the then American Le Mans Series (ALMS), and in preparation for the inaugural 2014 TUDOR United SportsCar Championship, which resulted  from the ALMS and GRAND-AM Rolex Sports Car Series merger. In 21 races with the ARX-03b prototypes, Tequila Patrón ESM earned two wins (Long Beach, 2013 and Mazda Raceway Laguna Seca, 2014), four pole positions and 16 podium finishes.

 
Tequila Patrón ESM and HPD set an aggressive plan for the ARX-04b coupes to compete this season in both the Tequila Patrón North American Endurance Cup as well as the FIA World Endurance Championship (FIA WEC).  However both Tequila Patrón ESM and HPD recognize that further development of the ARX-04b is needed before the design undergoes FIA WEC homologation. The deadline for FIA homologation is 30 days before the first WEC event, scheduled for April 10-12 at Silverstone. Once the homologation is approved, development is frozen on the customer LMP2 chassis and HPD will no longer be able to modify and update the cars. As a result, HPD has opted to postpone homologation until the remaining development work is completed.
"We very much appreciate the effort that Tequila Patrón ESM has undertaken on HPD's behalf to get the ARX-04b on track and helping to identify teething issues with our new chassis.  We are naturally disappointed that we are not yet ready for homologation, but we cannot homologate a car that is not yet meeting all of its targets," said Steve Eriksen, HPD vice president and chief operating officer. "Unfortunately, the time needed for remaining development is at odds with Tequila Patrón ESM's planned prototype sports car racing efforts this season.  We have made the difficult decision to change course at the 11th hour.  We look forward to continuing to support Tequila Patrón ESM in its efforts to win races and championships and fully support their revised direction."
Tequila Patrón ESM and Honda Performance Development mutually agreed to enter the open-cockpit ARX-03b prototypes, powered by the Honda HR28TT V6 engine, in the 63rd Annual Mobil 1 Twelve Hours of Sebring fueled by Fresh from Florida. The transition to the ARX-03b is timely for the Florida-based team that considers Sebring International Raceway its home track. Last year the No. 1 HPD Honda of Scott Sharp, Ryan Dalziel and David Brabham finished second at Sebring.
"Thank you to everyone at Honda, HPD, Wirth Research and Tequila Patrón ESM for their tireless efforts over the last four months," said Scott Sharp, Tequila Patrón ESM owner and driver.  "After being with Honda for 10 years and knowing Nick Wirth, undoubtedly the ARX-04b will fulfill its expectation with some additional development. Quite simply, that will take a bit of time and we're racing against the clock with the homologation deadline and start of the WEC season around the corner. To ensure a successful WEC season and championship run for Tequila Patrón ESM and HPD, we have decided our best opportunity to win races and the LMP2 title this season is to compete with an existing homologated chassis."
"We have purchased two new Ligier JS P2 chassis designed by Onroak Automotive, continued Sharp. "Onroak has an established relationship with Honda and have a proven P2 chassis that will allow us to carry on with our planned WEC LMP2 campaign.  Philippe Dumas and his team have been tremendous and are prepared to work overtime to deliver us two cars to compete at the 6 Hours of Spa-Francorchamps in May."
"We've had a relationship with Honda since 2007, and we're thrilled to continue our motorsports association with them," said Ed Brown, Patrón Spirits International, president and chief executive officer, and Tequila Patrón ESM driver. "We've had success with our HPD ARX-03bs and are looking forward to running them again at Sebring. We're eager to put that Honda power into the Ligier chassis later this season as well. Tequila Patrón ESM, Honda and Ligier will be a motorsports powerhouse seeking to conquer some of the most prestigious racing events. As the only American team running a full season of WEC with Honda and Ligier, we're looking forward to winning many races and championships together."
About Tequila Patrón ESM
Founded in 2010, Tequila Patrón ESM is one of the premier sportscar teams in the world. Tequila Patrón ESM's record includes two GT wins with the Ferrari Italia F458 (Canadian Tire Motorsport Park and Road Atlanta, 2012), two LMP2 wins (Long Beach, 2013 and Mazda Raceway Laguna Seca, 2014) two GT pole positions, four LMP2 pole positions and a combined 22 podium finishes.
For 2015, Tequila Patrón ESM competes in the TUDOR United SportsCar Championship and the FIA World Endurance Championship (WEC) with two Tequila Patrón-sponsored LMP2 prototypes and drivers Scott Sharp, Ed Brown, Johannes van Overbeek, Ryan Dalziel, Jon Fogarty, and David Heinemeier Hansson.
Further information:
Facebook: www.facebook.com/TequilaPatronESM
Twitter: www.twitter.com/PatronESM
YouTube: www.youtube.com/esmracing
Instagram: www.instagram.com/TequilaPatronESM