2015 News
Tequila Patrón ESM Determined to Achieve Victory at Sebring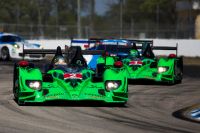 A Patrón-worthy combination of home track advantage and return of Honda ARX-03bs 
Riviera Beach, Fla., – March 17, 2015 – Tequila Patrón ESM has some unfinished business at Sebring International Raceway and this weekend's TUDOR United SportsCar Championship race – the 63rd Mobil 1 Twelve Hours of Sebring Fueled by Fresh From Florida. Following last year's runner-up finish, the Florida-based team returns to its home track more determined than ever to win the annual Sebring event and the second round of the Tequila Patrón North American Endurance Cup. To help with those tasks, Tequila Patrón ESM has enlisted two old friends – the Tequila Patrón-sponsored Honda Performance Development (HPD) ARX-03b race cars.

The Tequila Patrón ESM team recalls last year's 12 Hours of Sebring as vividly as it remembers yesterday. Despite dominating and leading the second half of the endurance event, a late-race caution flag jeopardized the No. 1 Tequila Patrón ESM team of claiming victory. It was a bittersweet podium celebration for Scott Sharp, Ryan Dalziel and David Brabham. The second-place finish marked the first podium of the season for the team, but a race win was a mere four seconds out of reach.


Characteristically the roughest, bumpiest and most challenging circuit on the TUDOR Championship schedule, Sebring International Raceway is typically a favorite of the Tequila Patrón ESM team. Overall victory has eluded both Tequila Patrón ESM and Honda at the 3.7-mile, 17-turn circuit – a statistic both are looking to change this weekend.

The 2014 season marked the second year of Tequila Patrón ESM running the ARX-03b chassis. In 21 races with the ARX-03b prototypes, Tequila Patrón ESM earned two wins (Long Beach 2013 and Mazda Raceway Laguna Seca 2014), four pole positions and 16 podiums.

Earlier this month, Tequila Patrón ESM and Honda Performance Development mutually agreed that it would be competitively advantageous to run the ARX-03b at Sebring while the ARX-04b coupe continued development. The ARX-03b prototypes last at-track appearance was the FIA World Endurance Championship (FIA WEC) 6 Hours of Shanghai in November, a race that concluded with Sharp and Dalziel earning runner-up honors.

Sharp and Dalziel return to Sebring in the No. 1 Tequila Patrón HPD ARX-03b, and are joined by David Heinemeier Hansson. Dalziel won the 2012 LMP2 race in the same ARX-03b chassis with the Starworks Motorsports team. Heinemeier Hansson brings one LMP2 podium finish and two Prototype Challenge (PC) podium finishes with him to Tequila Patrón ESM.

The No. 2 Tequila Patrón ESM driving team of Ed Brown and Johannes van Overbeek has two top-five finishes at Sebring International Raceway aboard the ARX-03bs. The duo finished fourth in 2013 and then third in 2014. Brown and van Overbeek eagerly return to the ARX-03b prototype – it is the same vehicle in which they earned their first TUDOR Championship overall race win in 2014.

In one of van Overbeek's first Sebring races, he co-drove with Hans Stuck, the grand marshal of this year's 12 Hours of Sebring. The California native seeks his first Sebring win to go along with his three podium finishes (runner-up in 2006 and 2007, and third in 2005). Jon Fogarty – van Overbeek's teammate this year as well as for the 2006 and 2007 podium finishes – has five top-five finishes at Sebring.

The Sebring race will be the first time Heinemeier Hansson and Fogarty will drive the ARX-03b Honda chassis.

A quick glance at the calendar shows the team heads to Circuit Paul Ricard in Le Castellet, France, immediately following Sebring for the pre-season test for the FIA WEC. In less than a month, Tequila Patrón ESM will compete in the 6 Hours of Silverstone, the first of FIA WEC eight international races on the schedule. Victory at Sebring would be a Patrón-worthy beginning to Tequila Patrón ESM's FIA WEC season.

On Friday, fans have the opportunity to meet the 2015 Tequila Patrón ESM driver lineup during the TUDOR United SportsCar Championship Autograph Session beginning at 11:30 a.m.  Following the autograph session Tequila Patrón ESM will host a live auction in the paddock area benefiting the Austin Hatcher Foundation for Pediatric Cancer, with exclusive team items for bid. The auction starts at noon (ET).

The second race of 2015 TUDOR United SportsCar Championship is the 63rd Mobil 1 Twelve Hours of Sebring Fueled by Fresh from Florida on March 19-21. Qualifying for prototype cars takes place at 5:35 p.m. ET on Friday, March 20. Green flag for the 12 Hours of Sebring is 10:40 a.m. (ET) on Saturday, March 21.

The Tequila Patrón North American Endurance Cup (NAEC) includes the Rolex 24 At Daytona, Mobil 1 Twelve Hours of Sebring, Sahlen's Six Hours of The Glen and the season finale Petit Le Mans.  Watch the Tequila Patrón ESM drivers explain the significance of the Tequila Patrón North American Endurance.
TV Coverage – Saturday, March 21
FOX Sports 1 live coverage runs from 10:30 a.m. – 12:30 p.m. (ET).
FOX Sports 2 live coverage runs from 12:30 p.m. – 7 p.m. (ET)
IMSA.com coverage runs from 7 p.m. until 10 p.m. (ET)
FOX Sports 2 live coverage runs from 10 p.m. – 11 p.m. (ET)
 
TV Coverage – Sunday, March 22
FOX Sports 1 will broadcast a two-hour recap show from 8 a.m. – 10 a.m. (ET)
SCOTT SHARP
"We've had many changes at Tequila Patrón ESM since the beginning of the year. HPD and the Tequila Patrón ESM have mutually decided to set aside the new ARX-04b coupes and compete in the reliable 03b open-cockpit prototype car from our last two seasons.
 
"It was a last-minute decision but we know this race car and we know what it can do at Sebring. It is solid and reliable. We have great setups on the cars. We have a great setup for Sebring. We should have won the race last year. We led laps and had a huge lead on the field until that late caution. This car is competitive and knows its way around that bumpy track. We all feel really good about driving this car at Sebring.
 
"We're excited to be back in the ARX-03s at Sebring. We're really looking forward to this weekend. We want to head into the WEC series with a Sebring win under our belt." 
ED BROWN
"I'm excited to get back to Sebring! Johannes and I last year had a shot to win if it wasn't for contact with an Audi. Then Scott and Ryan were leading the race late into the night until they were hit with some bad luck in the form of a caution flag. Sebring owes both Tequila Patrón ESM cars. We're looking for podiums and a win as a proper sendoff into our next race in the WEC."
 
"It will nice to jump back into the 03b which is such a proven car especially at Sebring. I'm so appreciative to the entire team and HPD for all the hard work over the past four months! We owe our crews a win at Sebring!" 
RYAN DALZIEL
"I love Sebring. Not only is it where my wife and her family are from it's also Patrón ESM's home race, so that adds a little extra motivation for us.
 
"We're racing in the Honda ARX-03b and that changes our approach to the race. With the coupe, we would have approached Sebring much like Daytona, as an endurance test. But with us returning to the 03b that was very dominant last year, I think now we are approaching the race, ready to win.
 
"Last year was very bittersweet. We got our first podium of the season but we really should have won, so we have some unfinished business with the HPD 03bs and I know we can deliver. Nothing would make me happier than to bring home a 1-2 for every employee at Patrón ESM and HPD after what has been a tough six months, and even more grueling two weeks after this last-minute chassis switch." 
JOHANNES VAN OVERBEEK
"My first year driving at Sebring was when I had Hans Stuck, the grand Marshall of this year's race, on the team. Hans was very kind to me then and continues to be. He's an inspiration to me and I look forward to putting a good showing in with Ed and Jon in the Patrón ESM HPD car at this year's race.
 
"We're back to last year's car and there are some advantages. We know the setup, as drivers we're comfortable in it and it's cool from a temperature perspective. I can't wait to get started." 
JON FOGARTY
"Following our difficulties at the season opener at Daytona we are eager to get back on track, both literally and figuratively.  With Sebring being both the second race of the TUDOR Championship and the second race of the Tequila Patrón North American Endurance Cup, this is a great opportunity to go out and show what the team is capable of.  Sebring is a great test on all fronts, 12 hours of hard racing on a punishing track that demands everything from the team, car and drivers.  A good result here means a lot.
 
"With the shop close by and half the drivers living close by, we have a great fan base. This is a great time to interact with our fans and show how much we appreciate their support/
 
"This will be my first time in the Honda ARX-03b and I'm excited for the chance to drive it.  Every race car has its own personality and learning to work with that, figuring out how to maximize its potential is always a challenge, but one I very much enjoy. The car is proven and with my teammates' experience it should be a smooth process.
 
"I have been coming to Sebring for quite some time. I competed in the Skip Barber/Dodge Pro Series which was a support race to the Sebring 12 Hours, so it is a place I am familiar with. I would say my best race was actually with Johannes back in 2005. We had a huge battle on track in the GT class, one where we had to come back from some adversity. Remembering that race is great motivation to do one better this year!" 
DAVID HEINEMEIER HANSSON
"The 12 Hours of Sebring is my favorite track and event in the US. It's been good to me with three consecutive podium finishes, including runner-up last year in LMPC. It'll be a real treat to get one last hurrah in the open-top 03b. From the few laps I got in testing, I like that the aging chassis is still alive and kicking. We'll try to finish what ESM got so close to last year."
####

Further information:
Facebook: www.facebook.com/TequilaPatronESM
Twitter: www.twitter.com/PatronESM
YouTube: www.youtube.com/esmracing
Instagram: www.instagram.com/TequilaPatronESM