2015 News
American Homecoming for Tequila Patrón ESM at COTA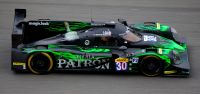 Riviera Beach, Fla., – Tequila Patrón ESM drivers Scott Sharp, Ed Brown and Ryan Dalziel finished third in the team's FIA World Endurance Championship (FIA WEC) debut at Circuit of The Americas last September. The Florida-based team hopes to channel the energy from one year ago as it returns to the United States for the FIA WEC 6 Hours of Circuit of The Americas (COTA).
In its rookie season of the WEC, Tequila Patrón ESM returns to home soil with its Ligier JS P2 Honda-powered race cars. Earlier this year, the team competed at the Rolex 24 at Daytona with the Honda Performance Development (HPD) ARX-04b coupe, and with the HPD ARX-03b at the 12 Hours of Sebring and 6 Hours of Silverstone. The team competed in its third different chassis of the season, the Ligier JS P2, at the 6 Hours of Spa-Francorchamps, the 24 Hours of Le Mans and 6 Hours of Nürburgring. Tequila Patrón ESM is the only LMP2 team in WEC to compete with three different chassis this season.
The team brings its international experience back to the United States, which includes two top-10 finishes in the team's 24 Hours of Le Mans debut.
Circuit of the Americas is the first WEC track this season where the Tequila Patrón ESM team has extensive experience, giving the team extra confidence heading into the event. Five of the Tequila Patrón ESM drivers have earned podium finishes at COTA. Sharp, Dalziel and Brown finished third last year, Brown and van Overbeek finished third during the 2013 American Le Mans Series race, and Jon Fogarty with then co-driver Alex Gurney won the 2013 Rolex Series race.
Built in 2012, COTA is a counter-clockwise, 3.427-mile long, 20-turn permanent road course with an elevation change of 133 feet. The combination of high-speed turns, long back straightaway and downforce sections prove to be demanding for drivers and teams alike.
As the lone American circuit on the WEC calendar, Tequila Patrón ESM will leverage two of its local ties. Brown graduated from the University of Texas at Austin, located less than 20 miles from the circuit. Jim "Chachi" Malicki, the No. 31 lead engineer and strategist, is an Austin resident.
Tequila Patrón ESM on Track
Thursday's two free practice sessions start at 4:45 p.m. and 8 p.m. Central Time (5:45 p.m. and 9 p.m. ET.)
Friday's on-track activity includes the hour-long practice session starting at 10:30 a.m. CT/9:30 a.m. ET.
LMP2 qualifying begins at 6:15 p.m. CT/7:10 p.m. ET on Friday.
Green flag for the 6 Hours of Circuit of the Americas takes place at 5 p.m. CT/6 p.m. ET on Saturday.
Where to Watch
The 6 Hours of Circuit of the Americas will be televised live on FOX Sports 2 on Saturday, September 19, from 6 p.m. ET – midnight.
The race can be viewed via the FIA WEC second screen app or online at www.fiawec.com. 
To listen to the 6 Hours of Circuit of the Americas, tune into Radio Le Mans at www.radiolemans.com.
####
SCOTT SHARP
"I am excited to return to COTA and to bring our Tequila Patrón ESM team back to race in the US!  The racing in the WEC is second-to-none right now and it will be an honor to compete in front of our US fans!
"It has been a more difficult year to date than we expected with many unforeseen challenges, but we have gained some valuable experience and adapted to the WEC style of racing. Team-wide there is a sigh of relief to return to a track that we know so well - all of the drivers have raced successfully at COTA multiple times. The Ligier chassis won at Austin last year so we are optimistic about the chassis performing on a track all six drivers know well. We're looking forward to starting this four race stretch with a pair of top finishes!" 
ED BROWN
"We're really looking forward to racing in Austin! It will be so nice to only have to fly a couple of hours to get to the race.
"Circuit of the Americas is where it all started for Tequila Patrón ESM in the WEC; it was awesome to get third last year. I'm really looking forward to racing our new Ligier-Honda in Austin since it will be the first place that we can compare it against the HPD ARX-03b."    
RYAN DALZIEL
"I'm really excited about COTA. Not only is it our home race for Tequila Patrón ESM but also the track we started our WEC campaign on last season. We scored a great podium in the No. 30 car and I truly believe we can achieve that again. We are doing everything to win this weekend. I know we will have a lot of American flags rooting us on and we look forward to improving upon last year's finish."    
JOHANNES VAN OVERBEEK
"As COTA is our only race on home soil, we're all eager to put on a good show. This year has been tough, primarily due to the fact that we have to learn the tracks. COTA, however, is a track we all have experience on and enjoy very much. Ed and I have had some success at COTA and we're hoping this weekend will be no different. I'm anxious to see what the Ligier can do this weekend. Ed, Jon and I will work as one to bring the No. 31 Tequila Patrón Ligier Honda to earn our best result of the season at COTA. I can't wait."   
JON FOGARTY
"On the WEC schedule, the COTA round is our 'home' race. As the lone American LMP2 team, this is our homecoming event.  It will be great to be back in front of a home crowd with strong support.  
 
"I think the Ligier will feel right at home at COTA because this circuit was designed specifically for F1 and it shares a lot of characteristics with the European tracks where the Ligier was tested and developed.  
 
"COTA will be less taxing travel-wise for the team, but as always the race weekend is a ton of work for the entire Tequila Patrón ESM crew.  A great result will be a big boost for the entire team. I think being in the States puts everyone in their comfort zone, and anything that can reduce stress in an intense environment is welcome."
DAVID HEINEMEIER HANSSON
"All efforts are set to make COTA our turn-around race for the season. It's a track the whole team is familiar with from the drivers, to the engineers and mechanics. We have our eyes set on that podium – both cars. It is fitting that we do that at the US round of the WEC."
Further information
Tequila Patrón ESM
Web: www.esmracing.com 
Facebook: www.facebook.com/TequilaPatronESM
Twitter: www.twitter.com/TequilaPatronESM
YouTube: www.youtube.com/esmracing
Instagram: www.instagram.com/TequilaPatronESM