2015 News
Tequila Patrón ESM Qualifies Third at COTA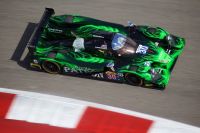 Austin, Texas, – Tequila Patrón ESM earned its best starting position of the 2015 FIA World Endurance Championship (FIA WEC) during qualifying for the 6 Hours of Circuit of The Americas (COTA). Despite a red flag impacting the opening minutes of qualifying, the team made the most of the 15-minute session. The No. 30 and No. 31 Tequila Patrón-sponsored Ligier JS2 Hondas will start third and sixth in the race on Saturday.
Per FIA WEC rules, the quickest lap time from each team's two qualifying drivers are averaged in order to determine the starting position.
Ryan Dalziel and David Heinemeier Hansson qualified the No. 30 Tequila Patrón ESM Ligier JS Honda third, with an average lap time of 1:57.621. Dalziel and Heinemeier Hansson are co-driving with Tequila Patrón ESM driver/owner Scott Sharp during the six-hour endurance challenge on Saturday.
 
Ed Brown and Johannes van Overbeek qualified the No. 31 Tequila Patrón ESM Ligier JS Honda sixth, with an average lap time of 2:01.480. Brown and van Overbeek are co-driving with Jon Fogarty for Saturday's race.
 
Green flag for the 6 Hours of Circuit of the Americas takes place at 5 p.m. CT/6 p.m. ET on Saturday.
 
Where to Watch
The 6 Hours of Circuit of the Americas will be televised live on FOX Sports 2 on Saturday, September 19, from 6 p.m. ET – midnight.
 
The race can be viewed via the FIA WEC second screen app or online at www.fiawec.com.
 
To listen to the 6 Hours of Circuit of the Americas, tune into Radio Le Mans at www.radiolemans.com.
###
ED BROWN
"We've seen an improvement in the car and our pace this weekend. It was hot and slick out there during qualifying. We have a few adjustments we need to make before the race tomorrow.
"It will be survival of the fittest tomorrow since it is so hot. We expect to see the race change as we approach the evening and hopefully the track cools down. I've had two podiums here and I'm looking to continue that streak."
RYAN DALZIEL
"It was a mixed session. We opted to switch David's tires and give him my tires just because we didn't want him to go out on cold tires. I ended up on one-lap, semi-hot scrubs, which I don't think I got the maximum out of them. That being said, I couldn't be happier with the team this weekend. We've made changes and I think it is a completely different car to what I've driven the past couple of races. If someone asked me right now what would I have done different to go faster, it would have been driver. It was my first time with stickers this weekend and it is such a different car in the past that I left a little bit on the table. I'm a little disappointed with myself in that, but I'm happy for the team to start fourth. This is our best starting position in this car and I'm looking forward to tomorrow."   
JOHANNES VAN OVERBEEK
"I went first and got caught out there with the red flag. I did one flyer lap, and on my next lap, which was looking like a great lap, there was an issue with the fuel pick-up, so I came in. I only had one lap. The car felt pretty good from what I could tell, but I didn't get the qualifying time to show it.
"Ed did a great job. We're starting further back than we would have liked or should, but should make for an interesting race tomorrow.
"Both cars have been towards the top of the time sheets. I think that will translate into tomorrow's race. It is going to be a long, hot day. As long as we're supposed to do and do it well, we'll be in a good position at the end." 
DAVID HEINEMEIER HANSSON
"I was in the car first and was also held up some by that red flag, but I think I made a mistake on my lap, which hurt our effort. I should have known about it because I had a heads-up about it earlier and that the car was a little twitchy in a certain area. It is frustrating to know the car had a bunch more pace and I could have done better had I not made a mistake.
"The good news is that the car is on pace and Ryan was right there. I don't think we've been this close in qualifying since Silverstone and that's promising. Whether we start P2 or P4, it won't matter in a six-hour race. Let's see what happens after six hours and running in the dark where we will be at the finish of the race. I feel like we have a real shot at the podium this weekend.
"Endurance has a new meeting at COTA because the temperature is a factor. I think it is going to be a challenge to double-stint in the beating sun. It will be interesting to see how people deal with that. Strategy is a factor this weekend; that will be what wins the race, along with the speed."
Further information
Tequila Patrón ESM
Web: www.esmracing.com
Facebook: www.facebook.com/TequilaPatronESM
Twitter: www.twitter.com/TequilaPatronESM
YouTube: www.youtube.com/esmracing
Instagram: www.instagram.com/TequilaPatronESM