2015 News
2016 FIA WEC Schedule Includes Stop in Mexico City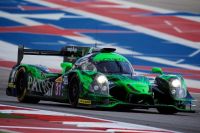 Austin, Texas, – Sept. 19, 2015 – Shortly before the FIA World Endurance Championship (FIA WEC) 6 Hours of Circuit of The Americas (COTA), the series announced its 2016 schedule which includes the same eight venues as 2015 and a new circuit: Mexico City. The Mexico City round will take place on September 4, 2016, per the FIA WEC announcement today.
The Florida-based Tequila Patrón ESM team will enter its sophomore season and compete against the world's best LMP2 teams in the 2016 FIA World Endurance Championship. The 2016 FIA WEC schedule includes two test sessions and nine races spanning the globe including England, Belgium, France, Germany, United States, Japan, China, Bahrain and now Mexico.
Tequila Patrón ESM fully supports the addition of a race in Mexico, the birthplace and home of Patrón Tequila. Every bottle of Patrón Tequila is produced at the Hacienda Patrón distillery in the hillsides of Jalisco, Mexico.
"We are thrilled that the WEC has included Mexico City on the 2016 schedule," said Ed Brown, driver of the No. 31 Tequila Patrón ESM Ligier JS P2 and president and chief executive officer, Patrón Spirits International. "Patrón is a global brand, proudly produced in Mexico, and for both of those reasons we enthusiastically support the FIA WEC's decision to add the Mexico race."
With the addition of Mexico City, Tequila Patrón ESM now has two home races on the 2016 schedule. The team will race on home soil during the Circuit of the Americas round immediately following a race in its sponsor's homeland.
"Heading into our second season in WEC, we are excited to travel and race at elite venues all over the world and now with the addition of Mexico, we have two races that we can call home," said Scott Sharp, driver/owner of Tequila Patrón ESM. "Mexico City is a world-class facility and a fantastic venue for the WEC. We're looking forward to the full 2016 schedule, getting back to Le Mans, racing here in the US at Circuit of the Americas and in Mexico, the home country of Tequila Patrón."
About Tequila Patrón ESM
Founded in 2010, Tequila Patrón ESM is one of the premier sportscar teams in the world. Tequila Patrón ESM's record includes two GT wins with the Ferrari Italia F458 (Canadian Tire Motorsport Park and Road Atlanta, 2012), two LMP2 wins (Long Beach, 2013 and Mazda Raceway Laguna Seca, 2014) two GT pole positions, four LMP2 pole positions and a combined 22 podium finishes.
For 2015, Tequila Patrón ESM competes in the TUDOR United SportsCar Championship and the FIA World Endurance Championship (WEC) with two Tequila Patrón-sponsored LMP2 prototypes and drivers Scott Sharp, Ed Brown, Johannes van Overbeek, Ryan Dalziel, Jon Fogarty and David Heinemeier Hansson.