2016 News
Fighting Fifth in Mobil 1 Twelve Hours of Sebring for Visit Florida Racing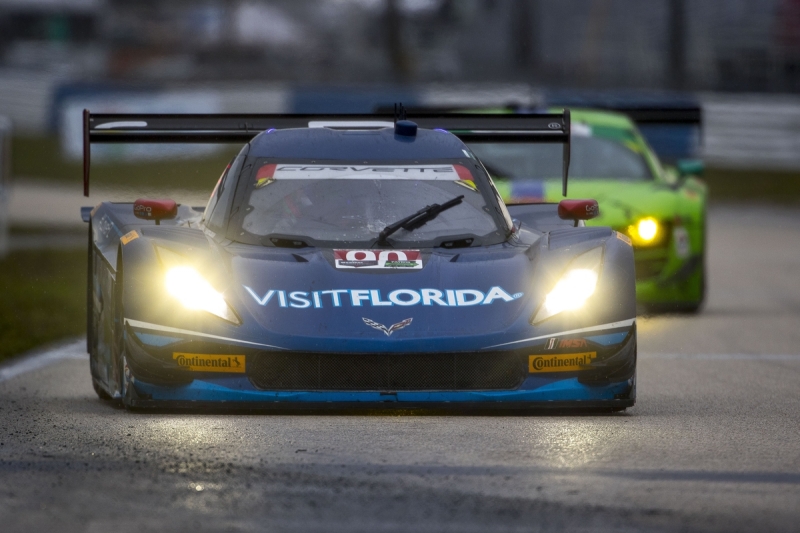 Sebring, Fla. (19 March 2016) - Visit Florida Racing survived a treacherous run through the Mobil 1 Twelve Hours of Sebring in a race that saw variable Florida weather conditions throughout. The 64th running of the historic event opened under dry and sunny conditions, followed by race-stopping torrential rain, and finished under the always challenging Sebring blanket of darkness.
Drivers Marc Goossens, Ryan Dalziel, and Ryan Hunter-Reay persevered through some of the most challenging race conditions in Sebring 12-hour history to bring home a fifth place finish.
Though not quite the result the team had hoped for, the Visit Florida squad brought home a healthy haul of championship points toward the 2016 IMSA WeatherTech SportsCar Championship and delivered a strong run in front of scores of Visit Florida guests and home-state supporters.
It was an up and down day for the No. 90 Visit Florida Racing Corvette DP, showing strong pace early on, only for the race to be halted for two hours and 15 minutes when strong storms moved into the area.
The Visit Florida Racing team looked well on its way to a sure podium-finish when Goossens led the combined-class 49 car field with just over an hour remaining. Following a full course caution period, the top-five cars fought for position while racing among GT traffic with an hour to go.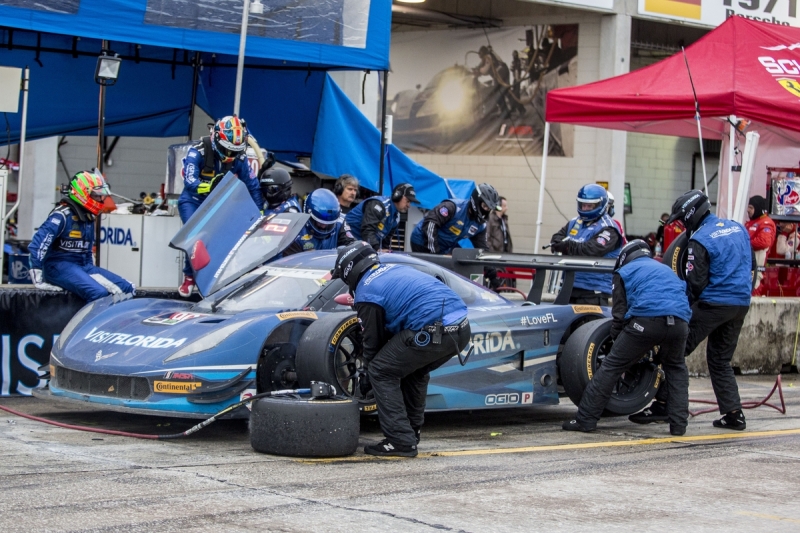 While battling for the race lead, the No. 90 Visit Florida Racing Corvette DP got turned by the eventual race winner, which dropped Goossens to fifth in the order.
Unfortunately, an extra stop was needed to clean out grass from the radiator which cost crucial time to the leaders forcing the team to settle for fifth at the finish.
"I think at Daytona (IMSA season-opener) we had a fifth place car, but got a third place finish and here, we had a third place car but got a fifth place finish," offered Team Owner Troy Flis. "We had a few things that kept us from really being in a position to win. Our pit stops weren't perfect, we didn't have the front end of the car working well for the guys, and the traction control wasn't dialed in the way that we needed it to be. We'll take the points and move on but we were definitely hoping to do a little bit better here with all of our Visit Florida guests here with us this weekend."
Visit Florida Racing next travels to Long Beach, California for the race through the streets of Long Beach April 16-17. Goossens will be joined by Hunter-Reay who will pull double-duty in both IMSA and IndyCar action during the Long Beach weekend. Dalziel will be competing at Silverstone that weekend as part of his World Endurance Championship campaign.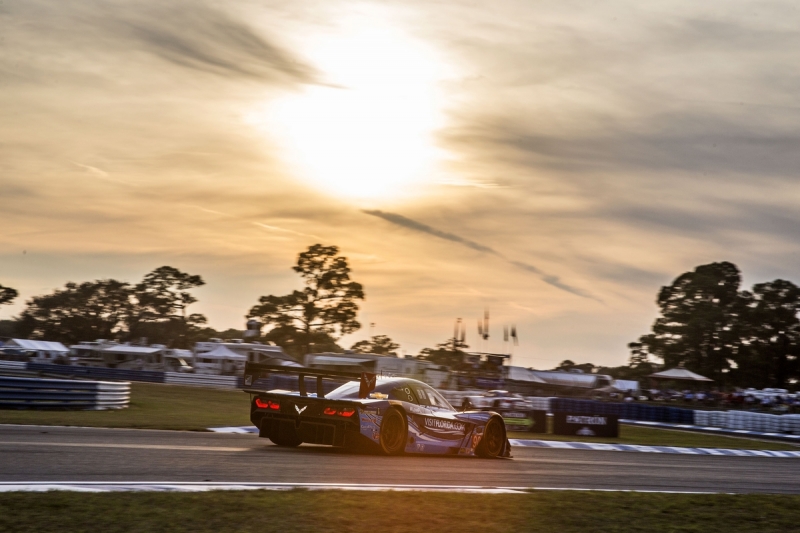 DRIVER QUOTEBOARD
MARC GOOSSENS: "Obviously my first time in the car today was quite eventful because of the changing conditions. I think at the time we were struggling with the electronics. I actually radioed to the guys that the only traction control I had was in my racing boots, so that wasn't the best. At that point I think it was more just surviving than anything else. Then I got back in at night and you have that funny thing where they restart you without being behind the overall leader so I was behind a GTLM car that was leading that class and he got spun around and then I was going around him and got tapped from behind. Unfortunately I don't think we had the car to stay up front if we would have been out there in the lead. But at least we would have had better track position. With the changing track conditions and the spin and looking at the big picture, I think we need to be happy because we got some good points toward the championship and we will keep building on this and try to make the car better. I think the Visit Florida Racing team did great and everything else was just circumstances we had to deal with and we recovered the best that we could."
RYAN DALZIEL: "We had positive points today, we just didn't have the result. Speed-wise we struggled again, so I think the first thing we have to do is get a little more speed out of the car. I think we narrowed the gap to the other Corvettes from Daytona to now so I take that as a positive. We got to run up front for a big chunk of the race but unfortunately Marc (Goossens) was actually spun by the eventual winners. He drove like crazy today and had almost five hours in the car. We have a lot of people here from Visit Florida so hopefully we gave them something to cheer about. And it was a good points as far as the No. 10 and the No. 60 finishing behind us so we will take the positives and make it better for Long Beach."
RYAN HUNTER-REAY: "It's always good to be back at the Sebring 12 hour. We had a good run there in the middle of the race, we didn't just have the pace for the leaders. We lacked a little balance there. It was fun. I had a good time in the car. The cooling in the car kind of went south so that made it a little difficult for us today. We know what we need to do heading into Long Beach and hopefully that'll be the race where we break through."
Visit Florida.com Racing 2016 IMSA WeatherTech SportsCar Championship Drivers: 
Ryan Dalziel
 Birth Date: 12th April 1982
 Birthplace: Glasgow, Scotland UK
 Residence: Windermere, Florida USA
 Website: www.ryandalziel.com
 Twitter: @ryan_dalziel
 
Marc Goossens
 Birth Date: 30 November 1969
 Birthplace: Geel, Belgium
 Residence: Westerlo, Belgium
 Website: www.marcgoossens.com
 Twitter: @marcthegoose

Ryan Hunter-Reay
Birth Date: 17 December 1980
Birthplace: Dallas, Texas
Residence: Fort Lauderdale, Florida
Website: www.ryanracing.com
Twitter: @RyanHunterReay