2016 News
Visit Florida Racing Chevy on Belle Isle Front Row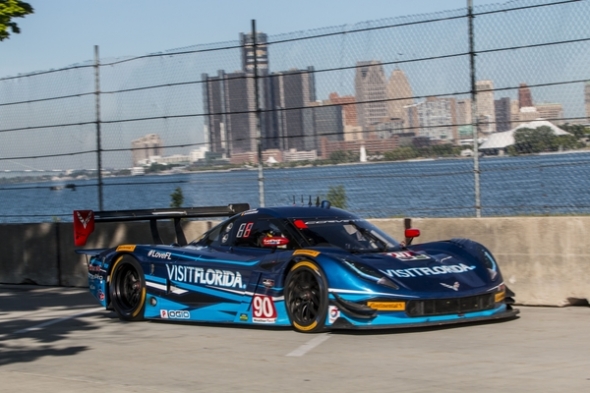 Belle Isle, Mich. (3 June 2016) – In his first-ever race at the Belle Isle street circuit, Marc Goossens put the No. 90 Visit Florida Racing Corvette Daytona Prototype on the front row for the Chevrolet Sports Car Classic presented by Metro Detroit Chevy Dealers. Goossens' fast lap time of 1:23.863-seconds was just .048-seconds off of the pole time as he rounded out the all-Chevy front row at the track located in the shadow of Chevrolet's headquarters.
Goossens and co-driver Ryan Dalziel worked with the Visit Florida Racing team to dial in the Daytona Prototype machine through two practice sessions held earlier in the day.
Goossens was quickly up to speed at the notoriously challenging and bumpy 2.35-mile temporary street course.
"Since we got here and did the track walk yesterday, I seemed to like this track but you never know what it's like until you go out in the race car," said Goossens following the qualifying run. "Obviously we were moving around on the time charts a little bit in the first session as we studied the track and then compared data with Ryan (Dalziel) who's raced here before. That's the advantage of having a teammate like him. I adapted to the track pretty quickly but in the meantime we kept working on the car. It's pretty good for race conditions but I didn't think we were going to be this close for qualifying. This is rewarding for the whole team and hopefully it motivates everybody to take us to the next level because they definitely deserve it. We're on the right track; we have to keep pushing everyone together."
 
Visit Florida Racing has seen positive progression through the first half of the IMSA WeatherTech SportsCar Championship season and is fresh off of the team's best finish of the year at the previous event of Mazda Raceway Laguna Seca. The group looks to carry that strong momentum into Saturday's 100-minute sprint race through the streets of Belle Isle.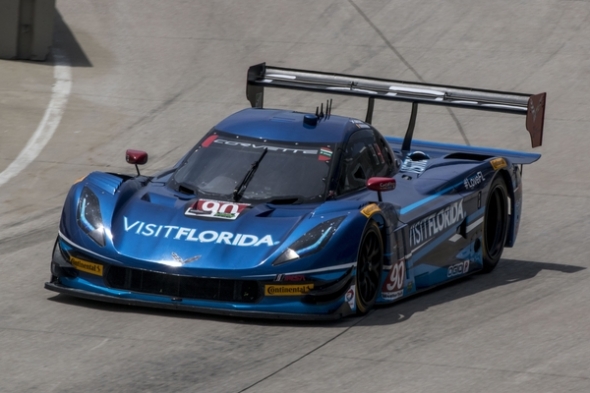 "The drivers really like the car that we have here," said Team Owner Troy Flis. "Marc (Goossens) did a great job – that was a great run with the current temperatures. We're here to win this IMSA championship so we're going to run at the front the rest of the year and keep going for wins."
 
Visit Florida Racing is currently third in the championship standings with four of 10 rounds complete.
 
 The Chevrolet Sports Car Classic goes green Saturday at 12:40 PM ET with LIVE coverage on FOX Sports 1 beginning at 12:30 PM ET.
Visit Florida.com Racing 2016 IMSA WeatherTech SportsCar Championship Drivers:
Ryan Dalziel
 Birth Date: 12th April 1982
 Birthplace: Glasgow, Scotland UK
 Residence: Windermere, Florida USA
 Website: www.ryandalziel.com
 Twitter: @ryan_dalziel
 
Marc Goossens
 Birth Date: 30 November 1969
 Birthplace: Geel, Belgium
 Residence: Westerlo, Belgium
 Website: www.marcgoossens.com
 Twitter: @marcthegoose

Ryan Hunter-Reay
Birth Date: 17 December 1980
Birthplace: Dallas, Texas
Residence: Fort Lauderdale, Florida
Website: www.ryanracing.com
Twitter: @RyanHunterReay