2016 News
Disappointment in Detroit for Visit Florida Racing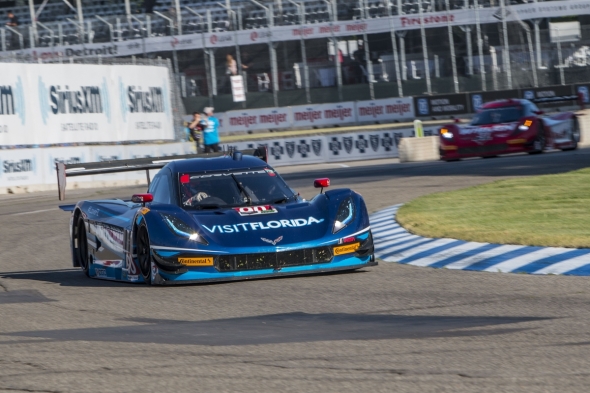 Detroit, Mich. - After making a very promising start to the IMSA WeatherTech SportsCar Championship visit to Detroit, Visit Florida Racing's Chevrolet Sports Car Classic presented by Metro Detroit Chevy Dealers took a sudden turn for the worse on Lap 10 when the No. 90 Corvette Daytona Prototype made heavy contact with the tire wall.
The contact caused significant damage to the right side of the iconic blue Visit Florida Chevrolet Corvette, and the damage was further exacerbated by a second hit when the car was hit by another Corvette DP that had no chance to take avoiding action.
The team had been hoping to return to podium form at Detroit, having finished second at the track in 2014, and had showed the pace to do that again as Goossens qualified on the front row in his first-ever visit to the track.
 
 Goossens had slight contact as he lapped one of the slower GT class machines, which caused the large GoPro-liveried rear wing to dislodge from the car. Goossens didn't know he had lost the rear wing, and having lost all the rear downforce, a spin was inevitable.
 
"On the initial start the 10 car (starting third) was right up on the No. 5 car's gearbox and just followed through," said Goossens. "All I could do at that point was sit in third. It was just a cat and mouse game from there, on the straightaways they'd pull away and I just kept catching them under braking.
 
"It's a shame we were out of it so soon because I thought a lot of it would be down to traffic and strategy, but we didn't get that far. A big apology to the team and Visit Florida. We had a good weekend going and unfortunately we didn't have the result to show for it."
 
The seventh place result was a disappointing one for the Visit Florida Racing team after showing so much progress throughout the weekend at Chevy's home track.
 
"The best news is that Marc (Goossens) is okay," said Dalziel. "It's a shame. He had no idea the wing had come off. A couple of corners before, he was passing a GT car and took the wing off. He came over the radio and told us he had some damage, but he didn't know the wing was gone. We were talking over each other and couldn't get the word to him quick enough before the next corner. It shows how much these rear wings do and how much speed you carry into that corner. It's a real shame for Visit Florida. We wanted to get a good result for Chevy here in Detroit. We had been strong all weekend; it was the best weekend we've had to date this season. We'll take all the positives, regroup and go to Watkins Glen for the next one."
 
Visit Florida Racing has won the previous two Sahlen's 6 Hours of the Glen events and will look to go for three-in-a-row and gain some valuable points toward the championship when the IMSA WeatherTech SportsCar Championship returns to Watkins Glen at the end of the month.
 
"We're here to win a championship for Chevy and Visit Florida so it wasn't the day we wanted," said Team Owner Troy Flis. "We had a good car. We've gained with the new drivers this year and building that relationship is getting better and better week in and week out. I think we showed that this weekend. Marc (Goossens) and Ryan (Dalziel) do a great job with this car and sometimes you get caught out like this. It's racing. You pick up and go back home and we'll be ready for Watkins Glen. We had a good test there so I'm excited. The result today puts us down in the points a little and it's going to hurt, but all we can do is just go out and try to win the rest of the races and give Chevy and Visit Florida some podiums."
 
Both Dalziel and Goossens are already on a jet over to Le Mans, France where the Visit Florida teammates will actually compete against one another in prototype machinery at the 24 Hours of Le Mans. Visit Florida Racing's team owner Troy Flis will also head over to Le Mans, France before traveling to the annual Goodwood Festival of Speed in England.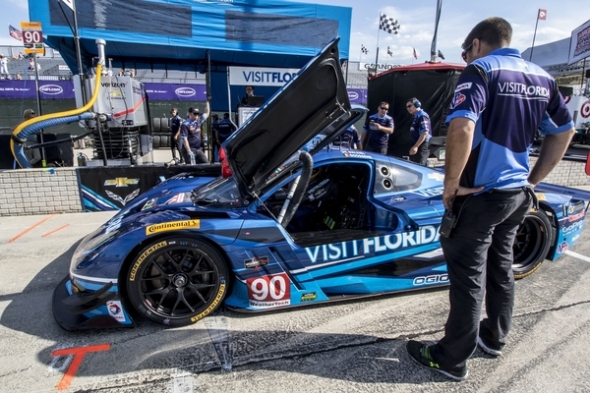 The IMSA WeatherTech SportsCar Championship will next be in action at Watkins Glen International for the Sahlen's 6 Hours of the Glen June 30 – July 1.
Visit Florida.com Racing 2016 IMSA WeatherTech SportsCar Championship Drivers: 
Ryan Dalziel
 Birth Date: 12th April 1982
 Birthplace: Glasgow, Scotland UK
 Residence: Windermere, Florida USA
 Website: www.ryandalziel.com
 Twitter: @ryan_dalziel
 
Marc Goossens
 Birth Date: 30 November 1969
 Birthplace: Geel, Belgium
 Residence: Westerlo, Belgium
 Website: www.marcgoossens.com
 Twitter: @marcthegoose

Ryan Hunter-Reay
Birth Date: 17 December 1980
Birthplace: Dallas, Texas
Residence: Fort Lauderdale, Florida
Website: www.ryanracing.com
Twitter: @RyanHunterReay