2016 News
24 Hours of Le Mans Preview: Tequila Patrón ESM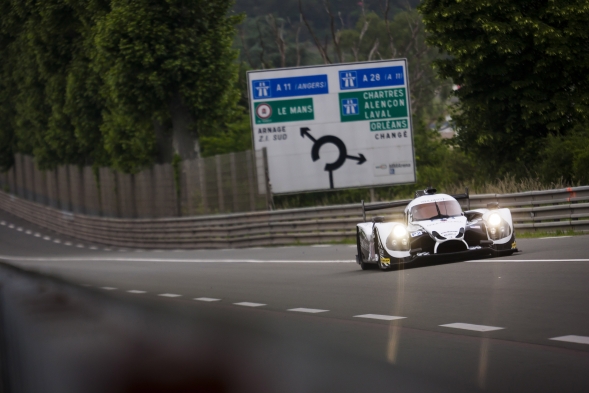 LE MANS, Fra., ---Race week has arrived in Le Mans, France for the 84th running of the world's oldest active sports car endurance race, the 24 Hours of Le Mans. Riding the momentum of a highly successful season to date, Tequila Patrón ESM returns for their second consecutive year, entering two cars in the 60 car field. The black and white Tequila Patrón ESM Ligier JS P2 Nissans will compete in the P2 class, currently the largest field of this year's running, with 23 cars listed.
The driver lineups for the Tequila Patrón ESM cars will remain the same, with Scott Sharp, Ed Brown and Johannes van Overbeek sharing the duties in the No. 30 car, and Ryan Dalziel, Chris Cumming and Luis Felipe "Pipo" Derani in the No. 31. Van Overbeek leads the charge for the best Le Mans finish of the No. 30 drivers after his third place finish in the GT class in 2005. This year will mark Sharp's third Le Mans, and second for Brown, President and CEO of the Patrón Spirits Company. Ryan Dalziel is the only Tequila Patrón ESM driver to grace the top step of the Le Mans podium, winning the LMP2 class in 2012. Cumming and Derani both made their Le Mans debuts in 2015. Cumming's race ended early with a gearbox problem, but Derani earned an impressive fourth place finish.
The team participated in the FIA World Endurance Championship Le Mans Test day at the beginning of the month, allowing all competitors to begin preparations for this week's event.  Due to French laws regarding liquor advertising, Tequila Patrón ESM has welcomed John Paul Mitchell Systems as the primary sponsor for the legendary event, sporting a new black and white livery.
The 24 Hours of Le Mans will push cars, drivers and teams to the limit as they compete for 24 straight hours on the 8.47 mile long course, Circuit de la Sarthe. The 2015 P2 class winners competed over 3,000 miles, battling in various weather conditions to finish on top. Speed, consistency and reliability will be the essential keys to the event, keys the team has held tightly to all season long, never finishing outside the podium yet this year. Tequila Patrón ESM currently sits third in the LMP2 class points as well as LMP2 driver points. As the longest race on the 2016 FIA WEC calendar, the 24 Hours of Le Mans will count as a double points event.
The Le Mans festivities begin today with scrutineering, followed by four more days of preparation and appearances before taking the green flag Saturday afternoon. For all schedule information, vist fiawec.com.
U.S. TV Schedule / All Times Eastern
FOXSports1 8:30 AM to 2:00 PM (June 18)
FOXSports2 2:00 PM to 4:30 PM
FOXSports2 6:00 PM to 6:30 PM
FOXSports2 7:00 PM to 7:30 PM
FOXSports2 10:30 PM to 2:30 AM (June 19)
FOXSports1 2:30 AM to 9:30 AM (June 19)
*The entire race is streamed live on FOX Sports GO
Quotes
Scott Sharp // No. 30 Tequila Patrón ESM Ligier JS P2
Since Le Mans is made up of public roads, it is incredibly difficult to get laps on the track. So to be able to test and have a problem free day and many laps for all drivers is a big comfort bonus heading into race week. Le Mans is a grueling 24 hours. The track is fantastic, with a fabulous flow. Every lap is truly exhilarating. It's a very challenging track, and you find yourself driving on the knife edge many laps. The weather is ever changing, and due to the length of the track, it can be raining on one end and clear on the other. Le Mans deserves so much more attention in the United States!  It's the biggest race in the world and so widely followed throughout Europe and Asia. It is a huge privilege to be a part of it.  After having one 24 Hours of Le Mans under our belt as a team, it is much easier the second time around.  All drivers know the track, we know what to expect, we are more prepared for the many challenges facing us, so I feel a huge sense of calm within our garage.

Ed Brown // No. 30 Tequila Patrón ESM Ligier JS P2
The Le Mans Test Day was good, as I was able to get more laps in, especially dry ones! You have to watch for fatigue not so much physically, but mentally. It's a long week and the track can be very demanding. In addition to that, the ACO rules the silver must drive a minimum of six hours. The best of the best have raced at Le Mans, so it an honor to drive with the best and where the best have raced.

Johannes van Overbeek // No. 30 Tequila Patrón ESM Ligier JS P2
Le Mans is bigger than any one driver or team. Racing here makes you feel very privileged no matter what you've done and where you've come from. Not only is it a tough race, it's a tough week leading up to it. The days are very long and by race start, everyone is already exhausted. Dealing with the strain of the week is part of the challenge. It's a very tough race to finish, let alone podium in. We're ready for the big show.

Ryan Dalziel // No. 31 Tequila Patrón ESM Ligier JS P2
This year will be my 5th time competing and every year I still feel like it's the first one. I don't get nervous or anxious about any other race. It's just humbling to be there each year and try to once again win it. It's such a huge race, even just logistically. The Le Mans Test Day just shakes the nerves off about Le Mans. I think we learnt some things about the car and continued to improve. I think nighttime is the most difficult of any endurance race I've competed in. It's not that it is the darkest race, but it can feel almost lonely at times, so you have to be at full concentration. On those freak laps where you don't pass or get passed, you feel like it's almost not real. Dealing with the faster and slow cars only multiplies the nighttime difficulty level.

Chris Cumming // No. 31 Tequila Patrón ESM Ligier JS P2
For me, the test was great to get back to a track I've been thinking about all year.  We found some things that work and some that didn't. For me, Le Mans is the pinnacle of what we do.  Every second counts.  With very few safety cars, any time lost is lost forever, so you have to pushing and also mistake free the whole time. It's the oldest, biggest, most famous race on the calendar, so naturally it's the one we want to win most.

Pipo Derani // No. 31 Tequila Patrón ESM Ligier JS P2
It was great to be back at La Sarthe earlier this month. As track time is very limited and there are many cars on track, I think it was a very good test day for us to get used again to this amazing circuit and feel at home before the race week. Le Mans is one of the biggest single sporting events in the world and one of the three biggest races out there. It's pretty special to be back here after my debut last year and I can't wait for the race week to arrive so we can go back to action. It's an amazing experience and only when you are here and you feel the atmosphere before the green flag you can understand why it is what it is. The biggest challenge in Le Mans is that every second counts. You can't afford to lose any time because most likely there's no way back. It's flat out from light to flag and this makes for an extra challenge for mechanics, engineers, drivers and everyone involved to perform at the highest level without making mistakes. It's not only about having the fastest car.