2016 News
24 Hours of Le Mans Qualifying Quotes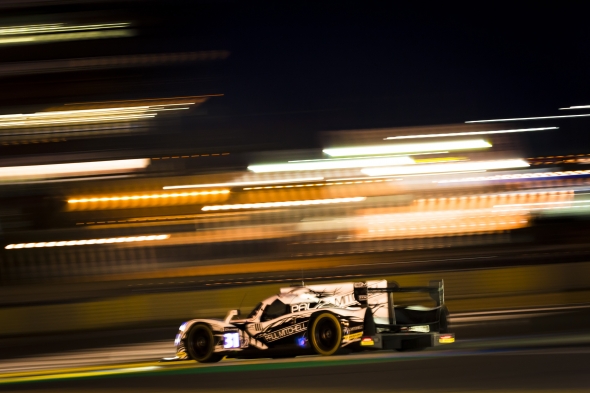 The No. 31 Tequila Patrón ESM Ligier JS P2 will start P6 in class, P15 overall // Best lap time 3:39.366
Ryan Dalziel // No. 31 Tequila Patrón ESM Ligier JS P2
We had a good first day. Obviously the weather was better on Wednesday than we expected. We're a little bit off the Orecas, which we expected to be. We're also a little faster than we expected to be. I think we have a pretty good race car. As always, it seems like tire management will be the important thing. It's a shame we didn't get to get any good laps on Thursday to verify some changes. Hopefully the first part of the race can be dry and we'll see what we get at the end of the race.
Chris Cumming // No. 31 Tequila Patrón ESM Ligier JS P2
It's been a really interesting couple of days. There has obviously been a lot of rain which cut practice time short for everybody. We've had to make use of the little dry running and get the set up as close as we can to what we want. We're feeling pretty good now. We don't necessarily have the ultimate, absolute pace, but we like our driver lineup. We're going into Saturday's race with good expectations.
Pipo Derani // No. 31 Tequila Patrón ESM Ligier JS P2
We were lucky to be able to put together a top six lap in the first qualifying session. There was still a lot more to come from all of us. It was difficult with the night because I didn't drive the practice before the first qualifying. To go straight into the night was a little difficult. Today on my first few laps I managed to improve what I needed to improve. I think there's a lot more potential than what we saw in qualifying. It's going to be a hell of a tough race in terms of pace. There are cars that are quicker than us in a single lap, but if that translates into a triple stint pace quicker than us, we don't know. We're going into this race looking to keep our nose clean, with no mistakes, to be there in the end.
The No. 30 Tequila Patrón ESM Ligier JS P2 will start P16 in class, P25 overall // Best lap time 3:41.406
Scott Sharp // No. 30 Tequila Patrón ESM Ligier JS P2
It was a mixed bag of weather this week, for sure. It's certainly not the kind of running we thought we'd have here after the test day. Fortunately, at the test day, we were able to get dry miles in. Since then, it's been ever changing conditions, challenging to drive, and frankly, really hard to work on our dry set up. Fortunately both Pipo Derani and Johannes van Overbeek put in some good laps yesterday in qualifying to get us our qualifying set secure. But like everybody, we could use more track time. We're still a little behind in some ways, but obviously 24 hours is a long race and a lot can happen. We need to be smart and we can end up with some solid finishes.
Ed Brown // No. 30 Tequila Patrón ESM Ligier JS P2
It's been interesting at Le Mans this week, but it always is. The endurance starts from the time we land. The weather conditions have been really difficult, and we haven't gotten very many laps. Thank goodness it was dry at the test. We pretty much knew what we had in our cars then. It's a long, hard race and I think we'll be pretty good. It's super competitive this year, with 23 cars in the class.  We just have to be racing in the 23rd hour and see what happens. Now we get to settle in and relax for a little bit and get ready for a really long day. Hopefully the weather is a little better than it has been the last couple days and that we get a clean race. (On higher expectations after winning Daytona and Sebring) We have high expectations but we also know the rules are different here, with the way they run safety car, and this is probably the most competitive field that has ever been in the P2 class for Le Mans. You also have to realize you're in for a war and you want to be racing in the end. I'm confident in our team. If we're there in the end, we have a shot to win. We'll see how it plays out.
Johannes van Overbeek // No. 30 Tequila Patrón ESM Ligier JS P2
Wednesday was a good day. It was a little challenging and at times frustrating when you're trying to get a good lap when there's red flags, slow zones and traffic. We're not super excited about our qualifying time, but at least we know we have a good car. Today, we had a traction control issue in the rain and luckily, we found the issue and solved it. We are ready for the race on Saturday.