2016 News
Visit Florida Racing Set for Mobil 1 Sports Car Grand Prix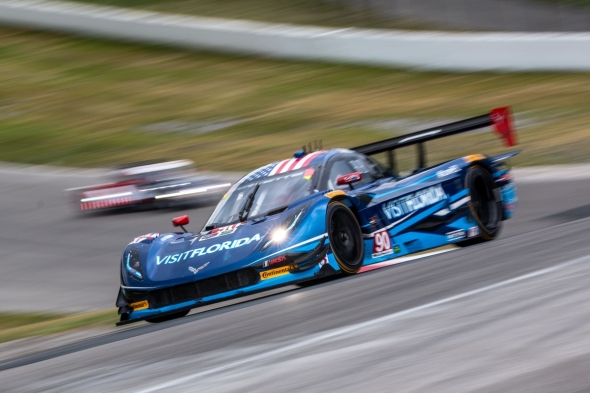 Bowmanville, Ontario, Canada (9 July 2016) – Looking to make a return to the Canadian Tire Motorsport Park podium, Visit Florida Racing is aiming to move forward in Sunday's Mobil 1 Sports Car Grand Prix as the IMSA WeatherTech Championship stages Round 7 of the 2016 season.
At the sweeping 10-turn, 2.459-mile circuit outside of Toronto, Marc Goossens drove the No. 90 Visit Florida Racing Corvette DP that he shares with Ryan Dalziel to a sixth place starting position on the grid with a fast time of 1:11.296-seconds.
"It's a bit frustrating just because of all the rain and everything in the practice sessions," explained Goosens following the quick 15-minute qualifying session. "We knew we made a bit of a gamble heading into the qualifying session. We knew what we were trying and I think a lot of the positive things we have now are a result of the changes we made, but I think we just went a step too far. Now at least we have some data to look at and see what we can come up with for tomorrow. The good thing is even though I don't think we are quick enough right now, we do have consistency. So now we have something to work with and we will do our homework tonight and hopefully have a good race car tomorrow."
Sunday's race marks the finish line of a busy few weeks on the road for the Florida-based crew, as they were in action just last weekend at Watkins Glen International.
"It's a two hour and 40 minute race tomorrow so we will work hard tonight to make the car better for the guys tomorrow," explained Team Owner Troy Flis. "I think the race is going to have a lot to do with track position so we will work to get to the front there and then wait for the last half hour or so and do the last pit stop and get good track position. I think we can still pull one out tomorrow."
The race is set to go green on Sunday at 11:05 AM (ET) with coverage beginning LIVE on FS1 at 11:00 AM (ET).
Visit Florida.com Racing 2016 IMSA WeatherTech SportsCar Championship Drivers: 
Ryan Dalziel
 Birth Date: 12th April 1982
 Birthplace: Glasgow, Scotland UK
 Residence: Windermere, Florida USA
 Website: www.ryandalziel.com
 Twitter: @ryan_dalziel
 
Marc Goossens
 Birth Date: 30 November 1969
 Birthplace: Geel, Belgium
 Residence: Westerlo, Belgium
 Website: www.marcgoossens.com
 Twitter: @marcthegoose

Ryan Hunter-Reay
Birth Date: 17 December 1980
Birthplace: Dallas, Texas
Residence: Fort Lauderdale, Florida
Website: www.ryanracing.com
Twitter: @RyanHunterReay