2016 News
VISIT FLORIDA Racing Closes Out DP Era with Petit Le Mans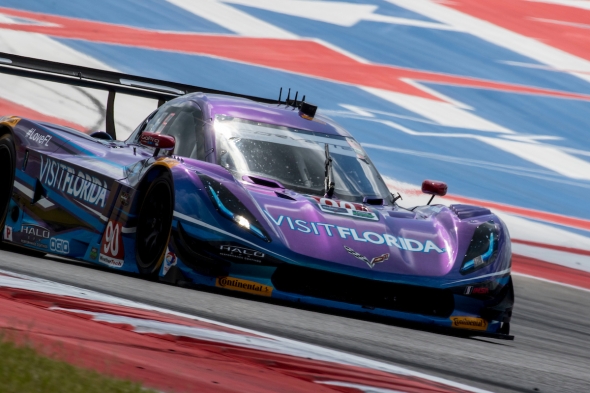 DRIVING IN THE PETIT LE MANS: Ryan Dalziel, Marc Goossens and Ryan Hunter-Reay will co-drive the No. 90 Visit Florida Racing Corvette Daytona Prototype.

ROAD ATLANTA: At 2.54-miles long with 12 turns, the popular road course is located outside of Atlanta, Georgia. This year's Petit Le Mans marks the 19th running of the event.

2016 CHAMPIONSHIP STANDINGS – VISIT FLORIDA RACING: 4th with 248 points after 9 of 10 rounds complete.



RACING FOR RETT: Besides chasing trophies, Dalziel used is long day at COTA two weeks ago in which he raced in both the IMSA and WEC endurance events to raise awareness and funds for the Rett Syndrome Research Trust, something that is close to his heart. Fans are encouraged to visit https://reverserett.org/donate/.

 Dalziel will be auctioning off one of his race suits as well as several other items from the weekend to raise funds for the Rett Syndrome Research Trust.
 To view the items up for auction and to enter the raffle, visit https://rafflecreator.com/pages/7192/ryan%E2%80%99s-rett-razzle-dazzle-double-weekend

NEW LOOK FOR VISIT FLORIDA RACING: Beginning at COTA, the No. 90 VISIT FLORIDA Racing Corvette DP had a new look. The first of its kind, Hawkeye Brothers Signs and Graphics applied HaloEFX liquid vinyl/peelable paint that changes color in the sunlight to the car. Look for the new changing chrome blue colors under the sun this weekend.



TESTING: VISIT FLORIDA Racing recently took part in a Chevrolet-hosted test at Road Atlanta. Both Ryan Dalziel and Marc Goossens were on hand to test the No. 90 VISIT FLORIDA Racing Corvette DP.

WELCOME BACK RYAN: Ryan Hunter-Reay returns to VISIT FLORIDA Racing for the season-finale event. He also joined the team in this year's Rolex 24 At Daytona, 12 Hours of Sebring, and Long Beach Grand Prix. He competes full time in the Verizon IndyCar Series for Andretti Autosport.

TEAM HISTORY AT ROAD ATLANTA:
 2013: Started 5th Finished 5th (Ricky Taylor, Richard Westbrook)
 2014: Started 3rd Finished 7th (Richard Westbrook, Michael Valiante)
 2015: Started 1st Finished 5th (Richard Westbrook, Michael Valiante, Mike Rockenfeller)

DRIVER HISTORY AT ROAD ATLANTA: Both Ryan Dalziel and Marc Goossens have made several starts at Road Atlanta dating back to the early 2000s. Dalziel won the Petit Le Mans event in 2012 while driving for CORE Autosport. Goossens' took his best finish of third in the event in both 2014 and 2015 driving for SRT in a Dodge Viper. Ryan Hunter-Reay was a teammate of Marc Goossens for that third place finish in 2014. He's made three starts in the Petit Le Mans since his 2011 debut in the event with Level 5.

A LOOK BACK AT COTA: After the car lost drive early in the race at Circuit of the Americas, VISIT FLORIDA Racing made repairs and returned to the track. The team used the remaining race time as a test session for the Corvette DP in preparation for this weekend's Petit Le Mans.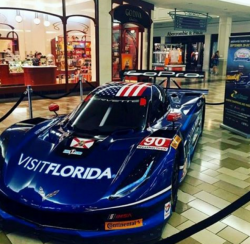 PROMOTING PETIT: The No. 90 VISIT FLORIDA Racing Corvette C7 DP "two-seater" car has been on display at the Mall of Georgia to promote the Petit Le Mans event. Georgia shoppers have been able to get an up close look at the No. 90 VISIT FLORIDA car to help raise awareness of the final round of the 2016 IMSA WeatherTech SportsCar Championship on October 1st.

The two-seater will be in action at Road Atlanta Wednesday morning. Contest winners from a promotion put on by ROCK100.5 "Atlanta's Rock Station" will receive laps around the track from Marc Goossens. Several media members will also have the opportunity to lap the 2.54-mile track in the Corvette DP.

DRIVER QUOTE:
Ryan Dalziel "I'm really looking forward to Petit Le Mans. Although it's been a tough season for Visit Florida Racing and the Austin race was particularly disappointing, we will be doing our best to finish the season off on a high note. We have Ryan Hunter-Reay joining us again so our lineup is as strong as anyone's. We had a great test at Road Atlanta a few weeks ago so hopefully what we learned there will transfer over to our pace for this week."

Marc Goossens "I like Road Atlanta a lot. It's again one of the old school tracks and it is not a very forgiving place. Cool elevation changes, combination of low and high speed corners. The race itself has become one of the major endurance races worldwide. We had a pretty strong test there a couple of weeks ago, and I hope that we can roll off the trailer in pretty good shape. It is a long race and a lot can go wrong so we need to find the right speed and stay out of trouble at the same time. I'm sure that the team who handles traffic best will come out on top after 10 hours."
 
WEEKEND SCHEDULE:
THURSDAY, SEPTEMBER 29
 11:15 AM – 12:15 PM Practice 1
 3:25 PM – 4:25 PM Practice 2
 7:30 PM – 9:00 PM Practice 3

FRIDAY, SEPTEMBER 30
 10:15 AM – 11:15 AM Practice 4
 1:00 PM – 1:45 PM Autograph Session at Team Transporter
 4:45 PM – 5:00 PM Qualifying

SATURDAY, OCTOBER 1
 8:40 AM – 9:00 AM Warm Up
 9:50 AM – 10:50 AM Grid Walk
 11:10 AM – 9:10 PM Race

Visit Florida.com Racing 2016 IMSA WeatherTech SportsCar Championship Drivers:
Ryan Dalziel
 Birth Date: 12th April 1982
 Birthplace: Glasgow, Scotland UK
 Residence: Windermere, Florida USA
 Website: www.ryandalziel.com
 Twitter: @ryan_dalziel
 
Marc Goossens
 Birth Date: 30 November 1969
 Birthplace: Geel, Belgium
 Residence: Westerlo, Belgium
 Website: www.marcgoossens.com
 Twitter: @marcthegoose

Ryan Hunter-Reay
Birth Date: 17 December 1980
Birthplace: Dallas, Texas
Residence: Fort Lauderdale, Florida
Website: www.ryanracing.com
Twitter: @RyanHunterReay