2016 News
VISIT FLORIDA Racing Set to End DP Era at Road Atlanta
Ryan Dalziel puts the No. 90 Chevrolet Corvette DP on the third row for Saturday's Petit Le Mans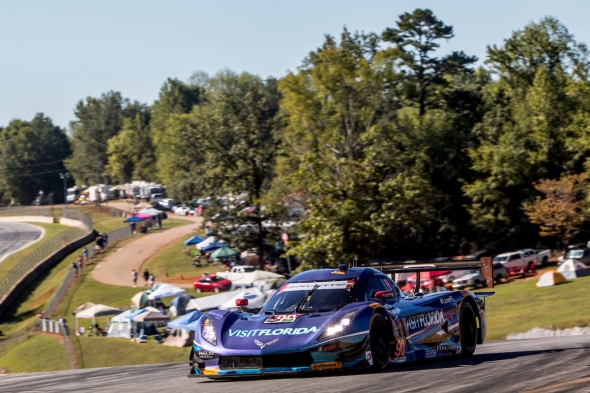 Braselton, Ga. (30 September 2016) – Visit Florida Racing will start the 19th Annual Petit Le Mans from eighth position after Ryan Dalziel set a quick qualifying time of 1:14.276-seconds in the No. 90 VISIT FLORIDA Chevrolet Corvette DP. Dalziel, Marc Goosens and 2012 Verizon IndyCar Series Champion Ryan Hunter-Reay, will share driving duties in Saturday's 10-hour endurance classic, the season-finale of both the IMSA WeatherTech SportsCar Championship and the Tequila Patrón North American Endurance Cup.
With just .3-seconds separating the entire Prototype class, the competition for the finale could not be tighter as the event also ushers in the end of the DP era for the IMSA series.
VISIT FLORIDA Racing began the busy season-ending event weekend early, providing local media and contest winners a taste of the action around Road Atlanta's twisting and turning 2.54-mile natural terrain road course as Goossens gave rides in the VISIT FLORIDA Racing two-seater Corvette DP.
As the weather at the track located just an hour north of Atlanta, Georgia did its best Florida impression with sunny skies and pleasant temperatures, the team made the most of three hour-long daytime practices and the fan-favorite night practice on Thursday to squeeze every ounce of speed and handling out of the car.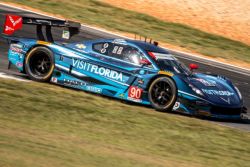 "We were hoping to close out this era with our Corvette DP on a stronger note in qualifying with the VISIT FLORIDA car, but tomorrow is what we are focused on," said Team Owner Troy Flis. "We've got a great activation here at Road Atlanta with a lot of folks from VISIT FLORIDA and hopefully we can keep chipping away at in in the race and be in a competitive spot in the last few hours to really go for it. Ryan (Dalziel) put in a really good lap considering the misfire we had, so we're encouraged about the car and just want to close out this year on a high note."
The 10-hour Petit Le Mans will take the green flag at 11:10 AM ET on Saturday with LIVE coverage beginning on FS1 before switching over to FS2.
Visit Florida.com Racing 2016 IMSA WeatherTech SportsCar Championship Drivers:
Ryan Dalziel
 Birth Date: 12th April 1982
 Birthplace: Glasgow, Scotland UK
 Residence: Windermere, Florida USA
 Website: www.ryandalziel.com
 Twitter: @ryan_dalziel
 
Marc Goossens
 Birth Date: 30 November 1969
 Birthplace: Geel, Belgium
 Residence: Westerlo, Belgium
 Website: www.marcgoossens.com
 Twitter: @marcthegoose

Ryan Hunter-Reay
Birth Date: 17 December 1980
Birthplace: Dallas, Texas
Residence: Fort Lauderdale, Florida
Website: www.ryanracing.com
Twitter: @RyanHunterReay