2016 News
Tequila Patrón ESM Returns to IMSA with Familiar Lineup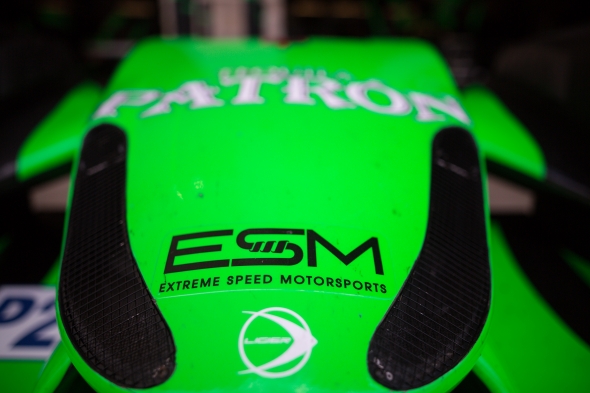 After two seasons competing in the FIA World Endurance Championship (WEC), Tequila Patrón ESM is preparing its homecoming to the United States for the 2017 IMSA WeatherTech SportsCar Championship. The Florida based team will return with its familiar but strong lineup of Scott Sharp, Ryan Dalziel, Ed Brown, and Johannes van Overbeek as the full time drivers in the No. 2 and No. 22 Tequila Patrón ESM Ligier DPi cars. Luis "Pipo" Derani, Bruno Senna, and Brendon Hartley will join the squad for the first race of the year, the Rolex 24 of Daytona.
The team previously announced its two car entry, transitioning from the Daytona Prototype chassis to the new Daytona Prototype international (DPi) cars. Partnering with Nissan Nismo, the 2017 return to IMSA with Ligier and Oak Racing, with which team has already celebrated success together. The two new DPi cars will run with the ACO/FIA homologated LMP2 Prototype Ligier chassis in the IMSA Prototype class.
Extreme Speed Motorsports owner Scott Sharp will pilot the No. 2 car, with Tequila Patrón ESM veteran Ryan Dalziel returning for his third season with the team. After showing impressive talent as a young gun in the WEC in 2016, Luis "Pipo" Derani will rejoin Sharp and Dalziel for the Tequila Patrón North American Endurance Cup races (TPNAEC), the four race endurance championship within the main championship.
Patrón Spirits Company President and CEO Ed Brown and Johannes van Overbeek will be returning for their eighth year together under the Tequila Patrón ESM banner. Brazilian driver Bruno Senna raced alongside Brown and van Overbeek in the 2016 WEC LMP2 class, and will return to American competition for the team's TPNAEC races. New Zealander and 2015 WEC LMP1 class champion Brendon Hartley joins the team for the Rolex 24 at Daytona with a strong racing resume, becoming a Porsche Factory driver in 2015.
The 2017 season begins January 26-29 with the Rolex 24 at Daytona, where Tequila Patrón ESM will defend their 2016 win. For more information, visit imsa.com.
Quotes

Scott Sharp // No. 2 Tequila Patrón Nissan Ligier
All of Patrón Tequila Patrón ESM is pumped to be back a part of the IMSA Weathertech Series! The new DPi formula is quickly gaining attention and large expectations! We are excited to take our new 2017 Ligier-Nissan to battle.  We have an incredible mix of drivers for 2017! I think it is an outstanding group. Johannes and Ed are back for their eighth year with ESM in car No. 22! They will be joined in the endurance races by Bruno Senna and Brendon Hartley, two fabulously quick guys! Ryan Dalziel will be back with myself for the season in the No. 2 car! I can't say enough good things about Ryan! We are great teammates and poised for a fantastic season. We are very fortunate to be joined by Pipo for all of the TPNAEC races. We all know what he is capable of, as he is super strong behind the wheel.

Ryan Dalziel // No. 2 Tequila Patrón Nissan Ligier
I'm really excited about my fourth season with Patrón ESM and especially coming back to IMSA with our new Nissan DPi Ligier. We have reformed our US based team for this season with a few familiar ESM faces and a bunch of new people. I think as a group, we've never been stronger and the shape of IMSA in 2017 looks mega. I can't wait for Daytona.

Pipo Derani // No. 2 Tequila Patrón Nissan Ligier
I am super happy to finally confirm I will be coming back to the TPNAEC with Tequila Patrón ESM. After a very successful first year together where we won Daytona and Sebring and had a very strong season in WEC is great to be able to come back to try to win those races again. The future of sportscar racing in United States is very bright and I am very excited for this new chapter that starts in 2017. IMSA has done an incredible job. I would also like to thank Scott and Ed for the trust and opportunity to continue working with such a great organization. I can't wait for the season to get started.

Ed Brown // No. 22 Tequila Patrón Nissan Ligier
I'm so excited for the new season! The new DPi program is so amazing! I can't wait to defend Daytona and Sebring with Johannes, Brendon, and Bruno. It is going to be awesome. I'm so very lucky to be able to drive with the best drivers in the world!

Johannes van Overbeek // No. 22 Tequila Patrón Nissan Ligier
First off, I'm excited for IMSA. The reception to the new DPi program has been nothing short of amazing. Teams have pulled out the stops to develop new, sexy, and exciting cars. I'm feel very fortunate to be back with Tequila ESM Patrón. I'm excited about defending our win in last year's Rolex 24 Hours. Driving alongside Bruno and Brendon will only sweeten the experience.

Bruno Senna // No. 22 Tequila Patrón Nissan Ligier
Joining Tequila Patrón ESM for the TPNAEC Series is a new exciting challenge for me! There's lots to learn in terms of racing in America and a fantastic brand new Ligier-Nissan to keep us on our toes, but with the strong driver line-up and team behind us, I'm sure we'll be racing in the very sharp-end of the pack! I can't wait!

Brendon Hartley // No. 22 Tequila Patrón Nissan Ligier
I'm very much looking forward to Daytona and working with Tequila Patrón ESM. They have put a great line up together and I'm sure we have a good chance of defending ESM's win from 2016. I love racing in the U.S and especially at Daytona, this is one of the most competitive races in the world next to Le Mans. A big thanks to ESM for the opportunity and to Porsche Motorsport LMP team for letting me do the race. As well as being a good opportunity it's also great preparation for my World Endurance Championship campaign.