2017 News
Tequila Patrón ESM Retains Ryan Dalziel for 2018 Championship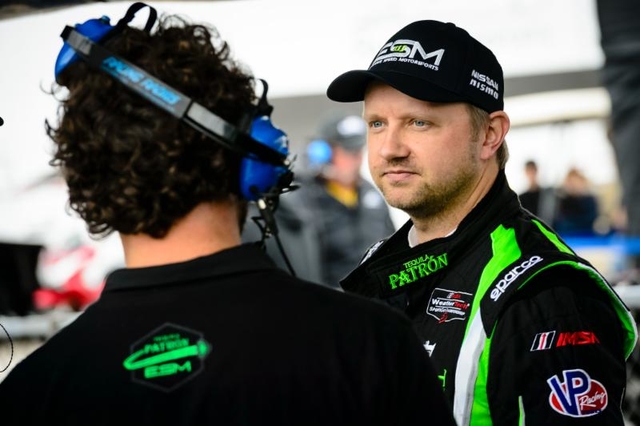 RIVIERA BEACH, Fla., - In anticipation of the campaign for the 2018 IMSA WeatherTech SportsCar Championship, Tequila Patrón ESM has signed Ryan Dalziel as one of two full season pilots of the No. 2 Nissan Onroak DPi. Extreme Speed Motorsports Team Owner Scott Sharp will complete the driver lineup.
"Tequila Patrón ESM is beyond excited to welcome Ryan back in 2018 for his 5th year with the team," said Sharp. "We picked Ryan because we felt we was one of the fastest guys out there, and that hasn't changed.  He's a great teammate, super hungry to win, and seldom makes mistakes. He's the complete package!  As we continue to fine tune our Nissan Onroak DPi, our combination should be very exciting!"
Dalziel first emerged on the sports car scene from open wheel racing in 2005, following a Daytona Prototype in the Rolex SportsCar Series. In 2010, alongside Terry Borcheller, João Barbosa, and Mike Rockenfeller, Dalziel earned his first Rolex 24 at Daytona win. Two years later, he won pole position at the endurance event, and finished second alongside teammates Allan McNish, Lucas Luhr, Enzo Potolicchio and Alex Popow. That same year, he won the 2012 24 Hours of Le Mans for Starworks Motorsport with Potolicchio and Tom-Kimber Smith in the LMP2 class. He joined Tequila Patrón ESM in 2014, driving the HPD LMP2 alongside Sharp. Dalziel's return to the team will mark his fifth year racing under the Tequila Patrón banner, competing with the team in both the IMSA WeatherTech SportsCar Championship and the FIA World Endurance Championship.
"I am so happy to return to Tequila Patrón ESM for my fifth year," said Dalziel. "We have built a strong team, and I am honored to have been a part of that process. It was a big change when we went to the FIA WEC, and again to start the new Nissan NISMO development program back here in the states for 2017. You essentially have to rebuild the team each time, and this team has done it successfully."
The current Nissan NISMO development program with Tequila Patrón ESM will continue into the 2018 season, with Johannes van Oveerbeek and Pipo Derani racing as teammates in the No. 22 Nisaan Onroak DPi.
"This has been such a good group to work with," concluded Dalziel. "We're a strong team, and I'm looking forward to good things with a good package next year. I'm looking forward to finishing this season on a high, then continuing the development on our package for next year."