2017 News
Tequila Patrón ESM Aims to Defend Win at Mazda Raceway Laguna Seca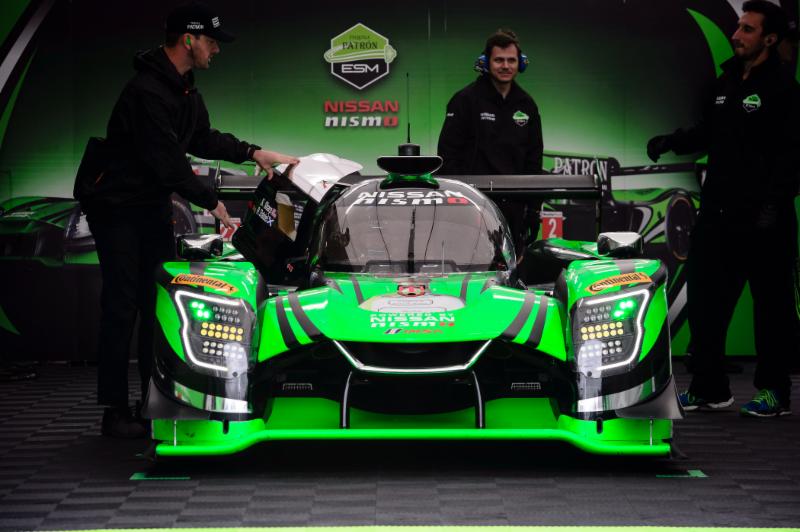 MONTEREY, Cal., - After a six week break since a monumental win at Road America, Tequila Patrón ESM will resume competition in the IMSA WeatherTech SportsCar Championship this weekend at Mazda Raceway Laguna Seca.
In August, the team earned its first win of the season, as well as its first win for the Nissan Onroak DPi program with drivers Johannes van Overbeek and Pipo Derani, as well as a third place finish with Scott Sharp and Ryan Dalziel. The win showed strong improvement of the developmental program, which began in early January when the two brand new Nissan Onroak DPis were delivered.
Just a few weeks after the win, the first days of hurricane season proved to be troubling for the Florida based team, as Hurricane Irma's arrival loomed. As predictions came that the category five hurricane would make landfall, the team opted to send the two transporters with the cars and equipment to California early in hopes of avoiding any weather delays, as well as the traffic resulting from the mandatory evacuations across the state. The early departure also allowed for team members to prepare their own homes and evacuate their own families.
"We are fortunate that the shop and homes of the crew were spared any damage when Irma decided to go west," said team manager Erin Gahagan. "We now have a lot of work to do to finish the cars once we get to Laguna Seca, but the crew is ready to go, and hopefully we can finish the year on the podium in the last two races."
With the trucks, equipment, and crew safely in Monterey, California, the team is now ready to fight for continued success in the remaining races of the 2017 race season. The 11 turn, 2.238 mile road course holds special place in the team's history, being the site of the team's first overall win in 2014 with van Overbeek and Ed Brown.
The America's Tire 250 at Mazda Raceway Laguna Seca will be the final sprint race of the season, following by the ten hour endurance event of Petit Le Mans at Road Atlanta.
The America's Tire 250 will air live on FOX Sports 1 at 2:00PM Pacific, or on the FSGO app with FS1 authentication. Audio commentary throughout the weekend will be provided on IMSA.com, RadioLeMans.com and Sirius XM Radio. Fans can also follow the race live with in-car cameras on IMSA.com and the IMSA App, and international audiences can watch live via imsa.tv.
Driver Quotes
Scott Sharp | No. 2 Nissan Onroak DPi
The entire Tequila Patrón ESM squad is excited to be back at the track!  Its been a very long break with a hurricane thrown in the middle, but the team has done an amazing job with resilient attitudes! Laguna Seca is such a special track to every driver. It is so unique, picturesque and flowing!  We won the last time we were at Laguna but it will certainly be a big challenge to replicate!  With the variety of Prototype cars presently in the field, there are a few that potentially appeal to the short-straight, twisty nature of Laguna Seca better than our Nissan-Onroak package but we will give it maximum effort!
Ryan Dalziel | No. 2 Nissan Onroak DPi
Seems like forever since we raced the Tequila Patrón ESM Nismo DPi, so I'm really looking forward to getting back behind the wheel. The last race at Road America we obviously had great pace in our cars and we hope to continue that in Laguna Seca. Tequila Patrón ESM won there a few years back with Johannes and Ed so we are looking forward to continuing those winning ways. Road America really suited our package so we are not quite sure what we will have pace wise at Laguna. The P2 cars will be very quick there with their lighter package, but we will do our best and I think that will have us at the pointy end of the field.
Johannes van Overbeek | No. 22 Nissan Onroak DPi
I'm looking forward to being back at Mazda Raceway Laguna Seca. The last time we were there as a team, Ed Brown and I won overall. Pipo and I will be working hard to repeat that 2014 performance and our last race win at Road America. It won't be easy but we will be ready.
Pipo Derani | No. 22 Nissan Onroak DPi
I'm super excited to finally drive at Laguna Seca. It is such a historic and cool track that has produced amazing endurance races in the past. Coming from a victory in Road America, it's obvious that our goal is to replicate that result, but it will not be an easy task. We've been working hard on the points we had to improve from last race and hope we can be a step higher here in California.