2017 News
Tequila Patrón ESM Returns to Road Atlanta with Strong Driver Lineup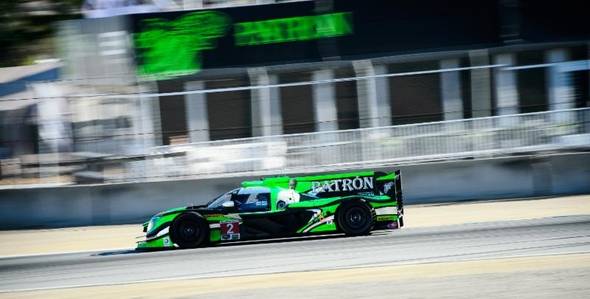 BRASELTON, Ga., - The 2017 IMSA WeatherTech SportsCar Championship comes to an end this weekend at Road Atlanta for the 20th anniversary of Motul Petit Le Mans. Tequila Patrón ESM returns to the endurance event with an all-star lineup, adding Brendon Hartley and Bruno Senna joining the full time lineups of Scott Sharp and Bryan Dalziel, and Johannes van Overbeek and Pipo Derani, respectively.
The Prototype team celebrated a strong run at the ten hour endurance event in 2016, showing a late race push resulting in Sharp, van Overbeek and Derani earning a second place finish. This year, the team formed a new partnership with Nissan NISMO and Onroak Automotive to create a new prototype developmental program, starting off the season with minimal testing. With one win and two additional podiums under the team's belt, the pair of Nissan Onroak DPis will provide strong competition for the other eight entries in the prototype field for the season finale.
The 10 hour endurance event will put drivers and teams to the test, racing in sunny and warm conditions during the daylight hours, then cool temperatures as the race goes into the night. Varying temperatures played an important role at the team's last race event at Mazda Raceway Laguna Seca, affecting the balance of both cars. The temporary setback allowed the team to learn more about the handling of the Nissan Onroak DPis, now ready for a full attack at Road Atlanta.
In 2016, the field completed over 1,000 miles at the 2.54 road course, setting a new lap record with 412 laps completed. The Nissan Onroak DPi will change gears 28 times in the twelve turns, resulting in over 11,500 gear changes during the ten hour event.
The 20th Motul Petit Le Mans will air live Saturday, October 7, beginning on FOX Sports 1 at 10:30AM ET and going until 11:30AM Eastern. FOX Sports 2 will continue the broadcast from 11:30AM to 2:30PM, and show the final four hours starting at 5:00PM. NASCAR legend Jeff Gordon will join the FOX broadcast team of Greg Creamer, Calvin Fish, and Bryan Till in the commentating booth, with pit reporters Jamie Howe, Justin Bell and Chris Neville covering live from pit lane. Audio commentary throughout the weekend will be provided on IMSA.com, RadioLeMans.com and Sirius XM Radio. Fans can also follow the race live with in-car cameras on IMSA.com and the IMSA App, and international audiences can watch live via imsa.tv.
Driver Quotes
Scott Sharp | No. 2 Nissan Onroak DPi
Petit Le Mans is such a special event!  And it's been a big year for Tequila Patrón ESM!  We knew we had a late start this year, but everyone has worked hard, we've gotten some results, and very much improved our package.  Historically, Road Atlanta has been a strong track for Tequila Patrón ESM and we plan to end the season on a high note!
Ryan Dalziel | No. 2 Nissan Onroak DPi
It's the last race of the season, so obviously we want to finish on a high note. Laguna was a very confusing weekend for us. We dominated a number of the practices but at qualifying and race time we just didn't have the pace to compete. We've made some big engineering changes since Laguna to try and go into the offseason ready to attack 2018 so it will be a tough weekend for us, but I think it will be a good one.
 
Brendon Hartley | No. 2 Nissan Onroak DPi
I'm excited to back with Tequila Patrón ESM for Petit Le Mans. I loved working with the team during Daytona and Sebring and I fancy our chances of a top result.
Johannes van Overbeek | No. 22 Nissan Onroak DPi
The Petit Le Mans is a special race and a great way to end the year. Tequila Patrón ESM has been hard at it after a tough race at Laguna Seca. With the addition of Bruno Senna and Brendon Hartley to the #22 and #2 respectively, Pipo and I will be working hard to get the best setup possible for the long race on Saturday. It would be wise not to discount the #22 or #2 in this year's running of the Petit Le Mans.
Pipo Derani | No. 22 Nissan Onroak DPi
I am really excited to be coming back to Road Atlanta. It's definitely one of the most challenging and nicest tracks from our entire IMSA season. Just like Sebring, this race brings another challenge of starting early morning and finishing at night. It's really difficult to find a compromise on the setup to have a quick car during the day but also at night on the final stages of the race. Hopefully we will roll out the truck with a car that's already quick so that we can start working on fine tuning the car for the race. It's nice to have Bruno back with us for this final race and I hope we can finish this season with a very strong result to reward Tequila Patrón and the entire ESM team for their hard work this season.
Bruno Senna | No. 22 Nissan Onroak DPi
After our strong performance in Watkins Glen, I'm looking forward to getting back in the car at another exciting circuit. Being with Pipo and Johannes will be a strong line-up to challenge for Petit!