2018 News
Tequila Patrón ESM Brings Nissan Prototypes to Mid-Ohio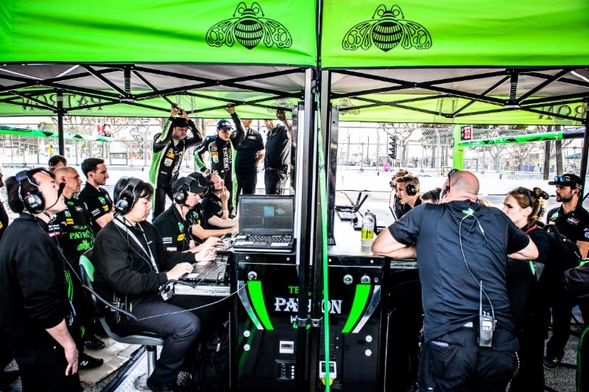 RIVIERA BEACH., Fla. (May 2, 2018) -- Following a second place finish last month at the Long Beach Grand Prix, Tequila Patrón ESM will travel to Lexington, Ohio this weekend for the next round in the IMSA WeatherTech series, the Acura SportsCar Challenge at Mid-Ohio SportsCar Course. The No. 2 Nissan Onroak DPi and the No. 22 Nissan Onroak DPi have each celebrated podium finishes in the last two races, and will look to carry that momentum into round four of the championship.
The IMSA WeatherTech SportsCar Championship last raced at Mid-Ohio in 2012, when Tequila Patrón ESM ran as a GT Team with the Ferrari F458 Italia. The team returns this year with a two car effort, developing Nissan's partnership with Onroak to create a race-winning DPi program. Looking to learn as much about the track as possible before the event, the team traveled to the 2.4 mile road course last month for a two day test. Mother Nature had different ideas for the Midwest region, and the Florida-based team was met with uncharacteristically low temperatures and snow. The Nissan DPi ran for a total of 30 minutes on a wet track, which provided little data that will be beneficial for this weekend's event.
While the on track test time was limited, three of the four Tequila Patrón ESM drivers have experience on the circuit, which will help make up for the lost time. Scott Sharp finished second in 2008 and 2009 in the American Le Mans Series, and co-driver Ryan Dalziel holds multiple wins in Pirelli World Challenge, as well as a 2011 win in the PC class of the American Le Mans Series. Of the four Tequila Patrón ESM drivers, Johannes van Overbeek holds the most Mid-Ohio wins, celebrating victories in 2003, 2007, and 2007. Sportscar rising star Pipo Derani will be a rookie at this year's event.
The 2018 season got off to a difficult start for Tequila Patrón ESM, when mechanical issues took out both cars in the season opening Rolex 24 at Daytona. The team rebounded in spectacular fashion at the Twelve Hours of Sebring when Johannes van Overbeek, Pipo Derani, and Nico Lapierre clinched the overall win. Scott Sharp and Ryan Dalziel were next to grace the podium, finishing second place after starting in eighth at the Long Beach Grand Prix.
The ACURA Sports Car Challenge at Mid - Ohio Sports Car Course will air live on FS2 at 1:00PM Eastern, and can also be viewed on the FOXSportsGo app with authentication. Live radio coverage from IMSA Radio will also be available domestically and internationally for all on track sessions via imsa.com and Sirius XM Radio. Timing and scoring, in addition to various in-car cameras will be available on imsa.com.
Driver Quotes
Scott Sharp | No. 2 Nissan Onroak DPi
Mid-Ohio is such a legendary sports car track in North America. It's exciting for the WeatherTech DPi cars to be back at such a challenging and competitive circuit. It's been a number of years since Tequila Patrón ESM has been to Lexington. The races always prove to be full of surprises and this year should be no different!
Ryan Dalziel | No. 2 Nissan Onroak DPi
I am really looking forward to Mid-Ohio. It's one of the best road courses in North America, combined with one some of the best fans in racing. We seem like we really have a handle on our Tequila Patrón ESM Nissan DPis now and hopefully we can continue our momentum of podiums and wins in Ohio.
Johannes van Overbeek | No. 22 Nissan Onroak DPi
Mid-Ohio has been good to me. I first raced there in 1995 at the SCCA runoffs racing an "American Sedan" Camaro. I've won more races at Mid-Ohio than any other track. Our Tequila Patrón ESM Nissan DPi should be good around the twists and turns that Mid-Ohio has to offer. After a disappointing outing in Long Beach, Pipo Derani and I are looking to get back to our winning ways in Ohio.
Pipo Derani | No. 22 Nissan Onroak DPi
I can't wait to go back racing next weekend. We will be looking to turn fortunes around after a very unlucky end to our race at Long Beach where a piece of debris hit the FIA mandatory kill switch on the outside of our car. It will be my first time racing at Mid-Ohio as well so looking forward to another typical American style track!