2018 News
Tequila Patrón ESM Returns to Take on the Motor City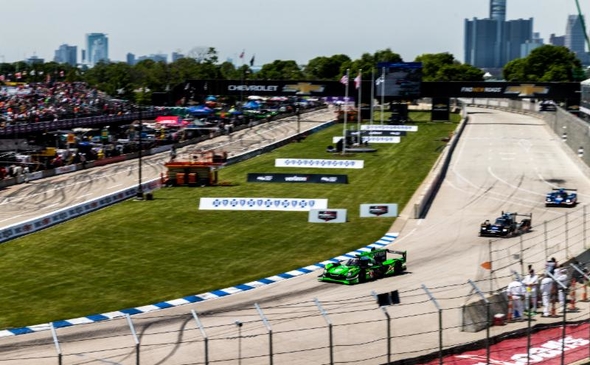 DETROIT, Mich., (May 30, 2018) – The streets of Belle Isle, Michigan are undergoing the final preparations for this weekend's Detroit Grand Prix, and Tequila Patrón ESM's pair of Nissan Onroak DPi Prototypes are ready for the action packed festival of speed.
The IMSA WeatherTech SportsCar Championship returns to the temporary street course on Belle Isle, offering the metro-Detroit area to get up close to the stars and cars. Fourteen prototypes and 11 GTD cars will compete in the 100 minute event, one of the shortest races in the 2018 sports car schedule.
Last year, Tequila Patrón ESM struggled at the 2.35, 14-turn street course, and has made the preparations for a strong performance in 2018. A bumpy mixture of concrete and asphalt, the surface of Belle Isle offers little grip for the Nissan Onroak DPi cars, but the team has put every effort into their race season development, confident that their testing has produced the package necessary for success.
Each of the two Tequila Patrón DPi cars have celebrated success on both bumpy and mixed surfaces, as well as tight street courses this season. In the No. 22 Nissan Onroak DPi, Johannes van Overbeek and Pipo Derani claimed the overall victory at the Twelve Hours of Sebring, at a track notoriously known for its bumpy surface. At the Long Beach Grand Prix, Scott Sharp and Ryan Dalziel took their turn on the podium, celebrating a second place finish on the tight street course. Sharp and Johannes van Overbeek each hold a best finish of second place in Detroit, a result they earned in 2008. Dalziel finished third at the street course in 2013, while this weekend will be Derani's first time on the circuit.
The Chevrolet Sports Car Classic will air live on FS2 starting at 12:30PM U.S. Eastern. International audiences can stream live on imsa.tv. Live commentary of all practice sessions will be available via the team at IMSA Radio.
Driver Quotes
Scott Sharp | No. 2 Nissan Onroak DPi
The Motor City is always a very aggressive, exciting race! Detroit was not a strong race for Tequila Patrón ESM last year and we have worked hard to make our cars better and deal with the issues on Belle Isle. It is an extremely bumpy, multiple surface type of track with low grip, and hard to pass. We have learned so much in the last year and excited to see our team apply that and attack!
Ryan Dalziel | No. 2 Nissan Onroak DPi
Detroit was a tough race for us last year. We struggled to get the car working well over the bumps but we feel that the Tequila Patrón Nissan DPi is much better in that area this year. We hada productive test recently, so we are going to do our best to get a good result. A podium would be a great weekend for us there.
Johannes van Overbeek | No. 22 Nissan Onroak DPi
Racing at Belle Isle in Detroit is always exciting, intense and hard fought. This year will be no different. Pipo and I are anxious to get behind the wheel and fight for another podium.
Pipo Derani | No. 22 Nissan Onroak DPi
Detroit will be the last track on the IMSA calendar I don't know. So once more I am looking forward to another challenge. I have always liked street circuits and the extra challenges they bring to the game. We'll be looking forward and working hard to come back to the front of the grid after an up and down beginning to our season.