2018 News
Pipo Derani Secures Pole Position at Detroit for Tequila Patrón ESM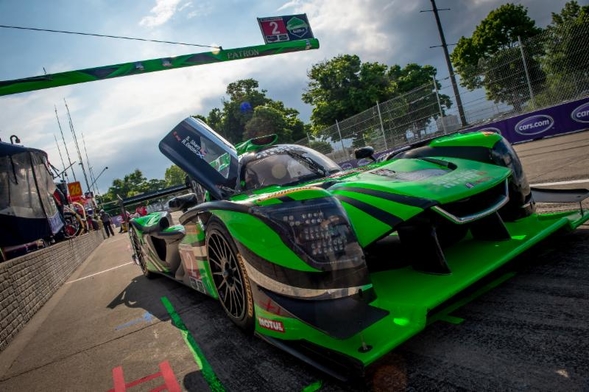 DETROIT, Mich., (June 1, 2018) – Following two challenging practice sessions at the Grand Prix of Detroit, Tequila Patrón ESM secured the IMSA WeatherTech SportsCar Challenge overall pole position Saturday on Belle Isle. The No. 22 Nissan Onroak DPi, driven by Pipo Derani set a fast lap time of 1:22.273, winning the top qualifying position by seven tenths of a second over the rest of the prototype field.
While both the No. 2 and No. 22 Nissan Onroak DPi prototypes struggled to find speed and the proper car balance on the street course, they improved with each session, making the final set up preparations before the qualifying session. Due to an on track incident that took place before the IMSA WeatherTech SportsCar Championship qualifying sessions, lengthy repairs had to be made on track, cutting in to the on track time allowed to set a starting position for Saturday's race. Shortened to just 12 minutes, the prototype field underwent another setback when a competitor had an incident on track, bringing out a red flag with just six minutes to go.
The field went back to green for three suspenseful minutes, and Pipo Derani was one of few competitors able to set the perfect flying lap, ultimately putting him on pole position for Saturday's race. The No. 2 Nissan Onroak DPi of Scott Sharp was unable to put in a flying lap in the limited amount of time and will start in 11th.
The Chevrolet SportsCar Classic will take the green flag Saturday, June 2 at 12:40PM Eastern, airing live on FS2 at 12:30PM. In car cameras and a live international stream will be provided on imsa.tv, and IMSA Radio will broadcast live via radiolemans.com.
Driver Quotes
Pipo Derani | No. 22 Nissan Onroak DPi
It was a difficult day for us, but a rewarding one. We started the day with a car that was a bit off. We were in the back of the pack in the first practice session and we just improved from one session to another. When things happen like that, it's very rewarding. To put it on pole shows that every single comment Johannes and I made, and every single input that the engineers and mechanics made on the car were in the right direction. It's great when you work with people like that. It's nice to finish my first day in Detroit on pole position. We've still only completed half of the job, and we still have to do a better job tomorrow to keep the car up front tomorrow.
Johannes van Overbeek | No. 22 Nissan Onroak DPi
Pipo did an awesome job. Qualifying was interrupted and he only had a lap and a half to make it happen, and he did. It was very impressive, and we're in the best possible starting position tomorrow. We'll see how it plays out.
Scott Sharp | No. 2 Nissan Onroak DPi
Awesome job by everyone on Tequila Patrón ESM. We had a huge rebound from where we started today. Congratulations to Pipo and everyone on the No. 22 on a killer qualifying lap!
Ryan Dalziel | No. 2 Nissan Onroak DPi
It was a good day for the No. 22 car. Pipo had a heck of a lap when he needed to. It wasn't an easy session. It'll be interesting to see how the race plays out. We were doing a little bit of a split strategy between the cars. We have been following the No. 22's lead through practice, so we'll see what I have when I jump in the car tomorrow. Based on their pace, I think we're in pretty good shape to get the Tequila Patrón cars up front.