2018 News
Tequila Patrón ESM Nissan DPis Seek to Conquer Unfinished Business at Watkins Glen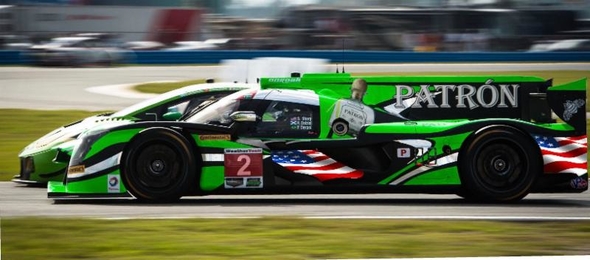 WATKINS GLEN, N.Y. – As the IMSA WeatherTech SportsCar Championship reaches the halfway point in the 2018 season, the Tequila Patrón North American Endurance Cup resumes this weekend at Watkins Glen International. The Sahlen's Six Hours of the Glen is the third race in the four races that make up the TPNAEC, an endurance championship within the existing calendar. While a win at Watkins Glen International has eluded Tequila Patrón ESM, the prototype team has dominated qualifying the last two years, earning pole positions in 2016 and 2017.
Johannes van Overbeek shattered the track record in 2016 with a best lap time of 1:35.207, setting an average speed of 128.561mph. The following year, Pipo Derani earned his first pole position and broke his team's record from the year before, setting a best lap time of 1:34.405, averaging 129.6mph. Last year, the team was performing strong with an 11 second lead over the field when contact from another car forced the first car to retire early. The sister Tequila Patrón ESM car took the eventual class lead, but a mechanical issue dashed all podium hopes for the Florida based team.
The 3.4 mile, 11 turn permanent road course suits the Nissan DPis well, and the team should again have strong speeds for another attempt at victory for the Sahlen's Six Hours of the Glen. Three drivers will split the driving duties for each car, with Olivier Pla and Nico Lapierre again joining the Tequila Patrón ESM ranks in the No. 2 and No. 22 Nissan Onroak DPis, respectively. In March, Lapierre celebrated a victory at the Twelve Hours of Sebring with drivers Pipo Derani and Johannes van Overbeek. The 34 year old Frenchman is returning to the team as a three time winner at the 24 Hours of Le Mans, following his win earlier this month with Signatech Alpine Matmut.
Fans at Watkins Glen International will have multiple chances to get up close with Tequila Patrón ESM this weekend with several fan-friendly opportunities. Ryan Dalziel, one of the biggest personalities in the IMSA WeatherTech SportsCar Championship paddock, will join Dinner with Racers hosts Ryan Eversley and Sean Heckman for a live show in the Watkins Glen Victory Circle. The show will be open to all fans, featuring entertaining stories, fun and games, and other live guests. The show will begin at Friday 5:30PM and go until roughly 7:00PM. On Saturday, all six Tequila Patrón ESM drivers will be taking part in a live chat with fans inside the IMSA WeatherTech paddock at the Konica Minolta Business Center, starting at 10:00AM. Off Track and On the Record will be hosted by FOX Sports reporter Justin Bell, and the team will also provide giveaway items for lucky attendees.
IMSA Radio will kick off live coverage of the Sahlen's Six Hours of the Glen, starting with Practice on Friday morning. The race goes green at 9:45AM Eastern, and will air live on Sunday, July 1 on FS1 starting at 9:30AM..
Driver Quotes
Scott Sharp | No. 2 Nissan Onroak DPi
I'm beyond excited to bring our Tequila Patrón ESM Nissan Onroak DPi to Watkins Glen, which is a home track for me! Being from CT, many of my early races were at the Glen. It's become a true favorite of mine and for the last two years it's been a very strong track for our ESM! We need to get back to victory circle and I'm excited to welcome Oli and Nico back to help us do that!
Ryan Dalziel | No. 2 Nissan Onroak DPi
Watkins Glen is one of those tracks you see on the racing calendar and count down the weeks till you get to race there. Tequila Patron had great cars there last year but we couldn't pull off the win. We know it's a good track for our Nissan DPi package and after a difficult, Detroit we are anxious to get started this weekend.
Oliver Pla | No. 2 Nissan Onroak DPi
Watkins Glen is one of my favorite tracks in the world, with all the high speed corners, this place is just amazing and driving a DPI car here you need a lot of commitment. It's going to be my last race this year with the Tequila Patrón ESM boys because of the Fuji clash, and I really want to finish with a strong result here!
Johannes van Overbeek | No. 22 Nissan Onroak DPi
A win at Watkins Glen has eluded us. We qualified on the pole the last two years but have come up short both times. I'm excited that Nico will be back in the car with Pipo and I for this race. We worked well together at Sebring. Hopefully, Nico will bring the extra luck needed to get us the win this year.
Pipo Derani | No. 22 Nissan Onroak DPi
Great to be coming back to WGI. It's where I scored my first pole position in IMSA, and a super fun and fast track to drive. I believe the circuit suits our car, so we hope to be competitive straight out of the box.
Nico Lapierre | No. 22 Nissan Onroak DPi
I've been watching Tequila Patrón ESM races on my TV for the last races and I'm super happy to finally to go racing again with them. It will be my first time at Watkins Glen, but from what I've seen on onboard camera it looks like a challenging track. I look forward to it.