2018 News
Watkins Glen Ends in Early Heartbreak for Tequila Patrón ESM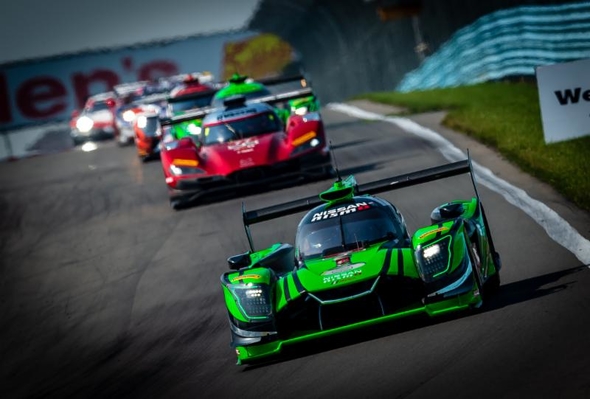 WATKINS GLEN, N.Y., – A podium finish at the Sahlen's Six Hours of the Glen has again eluded Tequila Patrón ESM. Although the Nissan Onroak DPi team showed strong speeds and consistent improvements throughout the IMSA SportsCar Championship weekend, the team retired both cars early from the six hour endurance event.
Both of the Nissan Onroak DPis started at the rear of the field, following a difficult qualifying session where Scott Sharp's fast lap in the No. 2 was taken away for violating track limits, and the No. 22's engine failed and needed to be replaced. Still optimistic that they could work their way up to the front of the field over the course of the six hours, Sharp and Nico Lapierre started in 13th and 15th. After the wave of the green flag, a prototype spun in the opening lap, causing both Tequila Patrón ESM DPi cars to suffer damage. Scott Sharp pitted the No. 2 and was able to receive a front nose and continue, but Nico Lapierre and the No. 22 went behind the wall for eleven laps of repairs. Both cars rejoined and attempted to continue their race efforts, but engine failures ended the race for the Florida team with only one hour of racing complete.
With the Mobil 1 SportsCar Grand Prix practice sessions just days away, the crew will make quick work of the preparations for the next round in the championship. Due to a lack of spare engines available, the team will enter only one car in next weekend's event. Ryan Dalziel and Pipo Derani together will pilot the No. 22 Nissan Onroak DPi. Last season, Ryan Dalziel and Scott Sharp celebrated a podium finish at Canadian Tire Motorsport Park, and the team holds one win and an additional podium at the Bowmanville, Ontario road course. The Mobil 1 SportsCar Grand Prix will begin Sunday, July 8 at 2:05PM Eastern, and air tape delayed on FS1 at 4:00PM. A live stream will be available to international audiences at imsa.tv. For more information, visit imsa.com.
Driver Quotes:
Scott Sharp | No. 2 Nissan Onroak DPi
It was very tough day for all at Tequila Patrón ESM! Unfortunately both Nico and myself got caught up on the first lap with the 90 spinning and everyone checking up. The team worked hard to repair the car and get us whole again, but sadly both cars retired with engine issues. Not the day we had hoped for or expected.
Due to our spare engine availability after this weekend we have decided to focus all of our available resources and run just one car at Canadian Tire Motorsport Park. Ryan and Pipo will share the driving duties and we look to rebound in a seriously positive way. CTMP has always been a strong track for Tequila Patrón ESM!
Ryan Dalziel | No. 2 Nissan Onroak DPi
It wasn't a good day for either car, but we had a lot of good positives from the weekend. We came in confident on our package and proved that we are still competitive at Watkins Glen. It was just bad luck. We had two failures during the race that the team will look into to see what when wrong, and we'll put our heads together for Canadian Tire Motorsport Park.
Oliver Pla | No. 2 Nissan Onroak DPi
It was obviously not the race we wanted. We had a strategy and a car to play at the front, but unfortunately the engine failure decided our race! I'm very disappointed for the team and myself, looking at all the work that been done to prepare this race! It was also my last race in the US this year with Tequila Patrón ESM. I wish them the very best for the rest of the season, as this team deserved so much more them what we had today!
Johannes van Overbeek | No. 22 Nissan Onroak DPi
It was a very disappointing race for Tequila Patrón ESM by any account. Both cars were involved in a first lap wreck which was out our control and both cars suffered engine failures. Testing for any team. ESM will bounce back and be stronger than ever in the races to come. The fight continues.
Pipo Derani | No. 22 Nissan Onroak DPi
I am definitely very sad that for a third year in a row we didn't finish the Six Hours of the Glen. This track is one of the nicest tracks out there, and a finish today would have been amazing. Unfortunately we were caught up in a first lap incident that put us a few laps down, but an engine failure after that meant our day was over. I would like to thank every single one in our team but specially our mechanics for their hard work. The boys have had to change three engines during this weekend and it certainly was no easy task considering the heat. I hope Ryan and I can deliver a strong result at Canadian Tire Motorsport Park, in what will be our first race together since Watkins Glen last year, to give those boys something to be happy about.
Nico Lapierre | No. 22 Nissan Onroak DPi
It's a very disappointing weekend. We had high expectations after the good pace of the car during the practice sessions. Unfortunately the engine problem in qualifying sent us to the back of the grid. At the start of race I was caught in a chaos because another car spun in the main straight. I had nowhere to go and couldn't avoid to touch the car in front and then the barrier. I was then also hit by another car. The team did an amazing job to bring the car back on track but unfortunately the engine gave up and we had to retire.