2018 News
Tequila Patrón ESM Returns to Road America to Defend DPi Win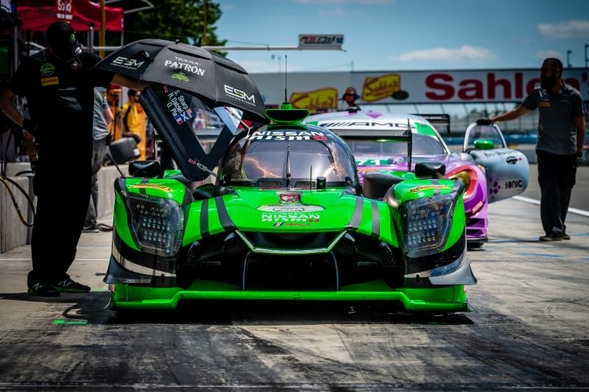 RIVIERIA BEACH, Fla., (August 1, 2018) -- After a series of challenging races in the IMSA WeatherTech SportsCar Championship, Tequila Patrón ESM is pressing on to the next round in the championship to Road America, where the team earned Nissan its first DPi win in 2017. Drivers Johannes van Overbeek and Pipo Derani brought the No. 22 Nissan Onroak DPi to victory with drivers Scott Sharp and Ryan Dalziel finishing third in the No. 2 Nissan Onroak DPi, scoring the team a double podium finish.
After winning the Twelve Hours of Sebring in March earlier this year, the prototype racing team followed up that result with a podium at the Long Beach Grand Prix and a fourth place finish at the Detroit Grand Prix. The second half of the season dealt the team a series of attrition filled races, resulting in the team fielding one car at the Mobil 1 SportsCar Grand Prix last month.
With several weeks of work at the Riviera Beach, Florida shop, Extreme Speed Motorsports has prepared both Nissan Onroak DPi cars to return to competition for the two hour, forty minute race in Elkhart Lake, Wisconsin. A fan favorite on the IMSA WeatherTech Sportscar Championship's schedule, the four mile road course offers fourteen turns and a long straight, where all three classes of Prototypes and GT cars will battle for their prospective wins on Sunday.
IMSA Radio will provide live coverage on location of every on track session, starting with Friday's practice session, and the Continental Tire Road Race Showcase will air live on FS1 at 2:30PM Eastern. Fans can follow Tequila Patrón ESM on twitter for live updates from the garage and pit lane. For full event information, visit imsa.com.
Driver Quotes
Scott Sharp
I want to thank everyone at Tequila Patrón ESM and our partners for their work over the last few weeks to overcome some of our recent issues and get both cars impeccably prepared for the Road America event. It's the site of our first Onroak/Nissan win last year and we arrive very optimistic for strong finishes with both cars!
Ryan Dalziel
It's been a really rough past couple of months and races for Tequila Patrón ESM, however Road America was the turning point for this amazing group in 2017 and I'm confident it will bring us the same fortune in 2018. Everyone at ESM, NISMO and Onroak have really been rallying since Canada's disappointing result to turn the season around and get us back to our winning ways. As a team we deserve to be podium every weekend and challenging for wins. Nothing would make me prouder than to help give Patron Tequila the sendoff from IMSA that they deserve by winning some more races.
Johannes van Overbeek
After a very tough and trying last few races, we're excited to get back to a track that has brought us success in the past. Road America is a fantastic track with a fantastic fan base. As a result, it's a favorite for most of us. Tequila Patrón ESM is more ready than ever to deliver a simply perfect weekend.
Pipo Derani
I can't wait for Road America this weekend. For me, it's one of the nicest tracks around the world, super-fast and cool to drive. Last year Johannes and I had a really strong race to bring Nissan its first DPi win with the GTR engine. We'll be looking to do it again. Hopefully this is the turning point in our season.