2018 News
Pipo Derani Grabs Pole Position at Petit Le Mans
Newcomer Nato impresses with fourth place spot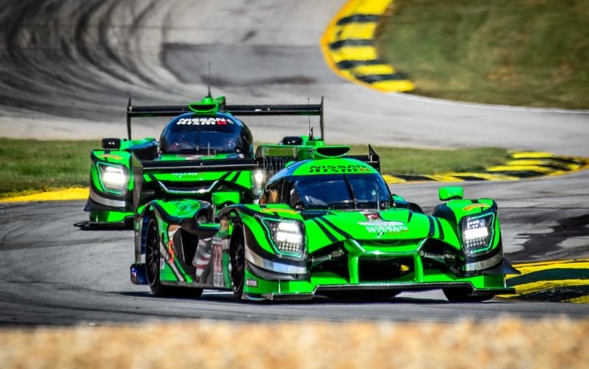 ATLANTA, Ga.,  – Tequila Patrón ESM driver Pipo Derani celebrated his 25th birthday in high fashion Friday at Road Atlanta by winning pole position in the No. 22 Nissan Onroak DPi for Saturday's 21st Motul Petit Le Mans. Teammate and IMSA WeatherTech SportsCar Championship newcomer Norman Nato qualified the No. 2 Nissan Onroak DPi in fourth.
Derani grabbed pole position early in the session, setting a fast timed lap on his first flyer lap. Olivier Jarvis and the No. 77 Mazda proved to be a strong competitor and followed suit with his own fast time to launch him to the top of the charts. Derani stayed on track and brought the No. 22 Nissan Onroak DPi to provisional pole a final time, and pitted with three minutes remaining on the clock. Jarvis stayed on track and continued to submit additional lap times, but failed to be quick enough to beat Derani's Nissan. The Brazilian earned his third IMSA WeatherTech SportsCar Championship pole position, and will lead the field to green on Saturday morning's start.
New to Tequila Patrón ESM, Road Atlanta, and the IMSA WeatherTech SportsCar Championship, WEC driver Norman Nato showed an impressive qualifying run as well, jumping as high as third place in the fifteen minute session. The 55 Mazda of Jonathan Bomarito put in a flying lap in the final laps, moving him down to fourth place for his IMSA debut.
The race will begin Saturday, October 13 at 11:05AM Eastern, and end under the cover of night at 9:05PM. Live television coverage of the event will begin at 10:30AM ET on FS1, and switch to FS2 at 12:00PM. RadioLeMans.com and SiriusXM radio (Sirius 119, XM202, App 972) will offer live radio coverage. For full schedule information, visit imsa.com.
Driver Quotes
Pipo Derani | No. 22 Nissan Onroak DPi
Qualified on pole position, best time 1:10.437
In any race, it's important to start up front, but this one has a special feeling, especially for myself. This is my last race with the team, and ESM's last race with Tequila Patrón. It's very emotional for the entire team, and it shows how hard we've been working the last three years. When I joined the team, we had lots of highs. What a better way to finish an era than to start on pole! We still have the race tomorrow, but I'm happy and grateful for the car they've given me to get on pole position.
Norman Nato | No. 2 Nissan Onroak DPi
It's a first qualifying for me. It has been a lot to learn this week. It's my first race in the U.S. with the Ligier. I'm brand new to the track, tires, the team, everything, so fourth place is good. I'm a bit frustrated because I didn't use 100% of the car. The car was fast today. Pipo did a great job. We worked a lot on the race set up during practice and I'm confident that the car will be great tomorrow and we'll have a good finish.