2018 News
Starworks Motorsport Makes IMSA Return With Ryan Dalziel
From IMSA.com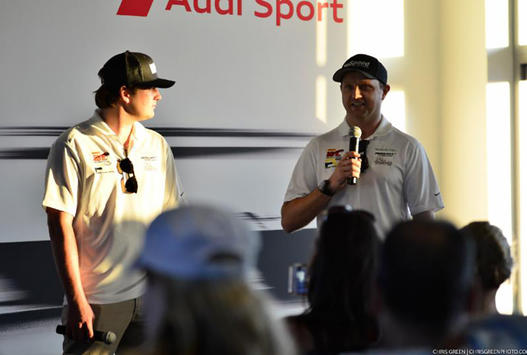 Starworks Motorsport has committed to return to full season competition in the IMSA WeatherTech SportsCar Championship with Ryan Dalziel in 2019. Dalziel will run as one of two full season drivers in the 2019 spec Audi R8 LMS GT3 Evo with Parker Chase locked in as a driver for the North American Endurance Cup Championship, potentially stepping in as the second full-season driver.


The Starworks Motorsport Audi R8 LMS GT3 that will enter in the 2019 IMSA GTD class championship is the same 2016 Audi R8 LMS in which Dalziel and Chase won the 2018 Pirelli World Challenge SprintX Pro/Am Championship. The car will be converted to the 2019 GT3 Evo kit, featuring a modified splitter to improve the car's heat evacuation, and increased durability with a revised transmission.

"Despite not fielding a Starworks Motorsports entry ourselves, our team has still been very busy in both IMSA and Pirelli World Challenge," said team owner Peter Baron. "I have enjoyed success and working personally with the Audi Sport Customer Racing group and look forward to continuing to strengthen our relationship in America. Based on all the success we had with Parker Chase and Ryan Dalziel in Pirelli World Challenge in the Audi R8 LMS, we felt it was the right time to move and enter into the IMSA WeatherTech series full time."

Following its establishment in 2010, the team has competed in the Continental Tire SportsCar Challenge, GRAND-AM Rolex Series, FIA World Endurance Championship (WEC), and the TUDOR United SportsCar Championship. Starworks Motorsport clinched the 2012 WEC Championship, 2012 IMSA North American Endurance Cup, and 2016 IMSA team and driver championships.

The relationship between Baron and Dalziel goes back 13 years, as the two have worked together on sports car racing programs for all but one season from 2005 to 2013. Together with Enzo Potolicchio and Tom Kimber-Smith, Starworks Motorsport and Dalziel won the 2012 24 Hours of Le Mans with the HPD ARX-03b.

"When my 2018 program was announced it was ending the first call I got was from Peter Baron at Starworks saying we should get the band back together," said Dalziel. "I've enjoyed much of my racing success under the Starworks banner and I've put all my efforts in the past few months making this happen. Continuity is so important in racing, and surrounding yourself with people who truly believe in you. This program is a continuation from the 2018 championship winning effort with Parker. He and I sharing a car with Peter Baron steering the ship is a force to be reckoned with. Audi has been a big part of making this happen and I'm extremely grateful for their trust in us to represent them."

Parker Chase joined the Pirelli World Challenge (PWC) in 2016, where he clinched the Rookie of the Year title with eight podium finishes. Chase joined TruSpeed Autosport in an Audi R8 LMS for the full 2018 PWC season, where he earned two wins in the Sprint championship, and another five in the SprintX championship with co-driver Ryan Dalziel. Together, the pair drove to win an impressive 15 podium finishes, winning the 2018 Pirelli World Challenge SprintX Pro/Am Championship. Partners Vertical Bridge will continue to sponsor Chase as he joins Dalziel for the 2019 North American Endurance Cup, the four race endurance championship within the existing IMSA schedule. Chase will possibly expand his role to also race the entire year as the second full season driver, a decision to be made at a later date.

"I'm super happy to be joining Starworks Motorsport for my 2019 IMSA campaign, and to be driving with Ryan again," said Chase. "It's great to continue my relationship with Audi as well in the new R8 GT3 Evo. It'll be my first time at Daytona and I can't be more excited. I'm ready to get started."

"I'm very excited to have two drivers who not only bring in strong, consistent results, but who also work so well together," said Baron. "Ryan and I have had tremendous success in the past and look forward to us pushing again for more wins and championships. Watching how Parker has matured in the car over last season was very rewarding, and I believe this 17 year old is going to have a fantastic future in sports car racing as he develops from a successful sprint driver into an endurance driver."

The 2019 IMSA WeatherTech SportsCar Championship will unofficially begin January 4 with the Roar Before the Rolex 24, the big pre-season all series test before competition kicks off at the Rolex 24 at Daytona, January 26-27. The IMSA GTD class championship will feature eleven races across North America, returning to iconic tracks such as Sebring International Raceway, Mid-Ohio SportsCar Course, Watkins Glen International, Road America, WeatherTech Raceway Laguna Seca and Road Atlanta. For more information, visit imsa.com.