2019 News
Starworks Returns for Road America
Article by: Sportscar 365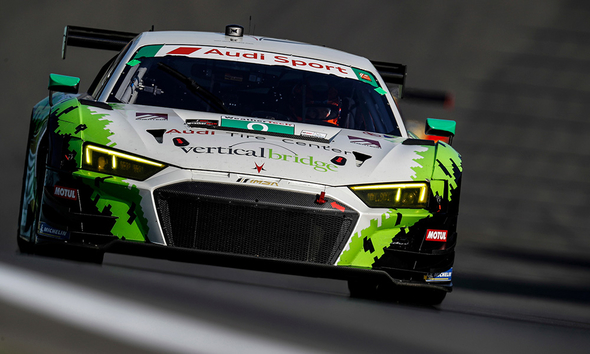 Photo By: IMSA
Starworks Motorsport will take a race-by-race approach for the remainder of the IMSA WeatherTech SportsCar Championship season according to team principal Peter Baron, who hopes they have solved their car's technical-related issues.
The No. 8 Audi R8 LMS GT3 Evo of Ryan Dalziel and Parker Chase was withdrawn from the two most recent IMSA WeatherTech SportsCar Championship rounds at Canadian Tire Motorsport Park and Lime Rock Park due to a top speed deficit that developed during the Sahlen's Six Hours of The Glen weekend.
While having been unable to test in the time since, Baron said the car has completed a full rebuild.
"We basically just went back and dissected the car and found one problem in the gearbox," Baron told Sportscar365. "We thought maybe that was it.
"We just took the time with the two races off just to give the car a complete rebuild, putting everything back to new spec how it would have been at the start of the season.
"We really weren't complaining about our top speed after Detroit, but then something happened between Detroit and the second session at Watkins Glen.
"We did some gearbox differential changes, and that might have been the problem. [It's] hard to point it. Maybe it's an accumulation of 100 small things, but it's kind of weird that 100 small things could all happen at once."
With Dalziel and Chase having been 16th in the GT Daytona class points standings following the Watkins Glen round, Baron admitted the two-race break also had its financial benefits.
The team's participation beyond Road America, meanwhile, is unclear and will be dependent on their results this weekend.
"It's been a little bit frustrating this year," Baron said. "We'll go to Road America and see how that event goes, and then base it on that.
"We weren't in any points contention, so the cost of going to CTMP and Lime Rock… we decided to save some cash and get our war chest better for next year, go through the car and just hit the reset button."
Baron said they haven't changed the Audi V10 powerplant since Watkins Glen but will have another "option engine" on-site at Road America in a "last case resort" situation.
Moorespeed Unlikely for Remainder of GTD Season
Audi's second planned full-season GTD entry, Moorespeed, meanwhile, has no current plans to return to WeatherTech Championship competition this year.
The Austin-based team has been absent since Will Hardeman's weekend-ending accident at Watkins Glen, which resulted in a severe concussion for the Bronze-rated driver.
Sportscar365 has learned that Hardeman has elected to stand down from driving as a result, although the team is close to securing a new program in the IMSA paddock in addition to its recently expanded Porsche GT3 Cup Challenge USA by Yokohama effort.