2019 News
DXDT Racing Back in Action This Weekend at Blancpain GT World Challenge Watkins Glen International presented by CrowdStrike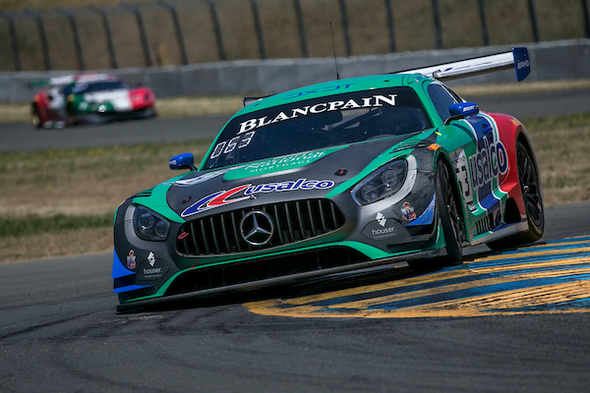 - David Askew and Ryan Dalziel Co-Drive No. 63 USALCO/DXDT Racing Mercedes-AMG GT3
- George Kurtz and Colin Braun Co-Drive No. 04 CrowdStrike/AWS/DXDT Mercedes-AMG GT3
WATKINS GLEN, New York (August 29, 2019) – DXDT Racing, and its two-car Mercedes-AMG GT3 team, returns to action this weekend at the Blancpain GT World Challenge Watkins Glen International presented by CrowdStrike, August 30 – September 1, on the legendary 3.4-mile Watkins Glen International road course.
The Watkins Glen weekend of competition is the first for Blancpain GT World Challenge America competitors since early June and kicks-off a critical stretch of three weekend-doubleheader races that will decide this year's championships.
The Glen doubleheader, Rounds 9 and 10 of this year's 14-race championship, features twin 90-minute races Saturday and Sunday. Saturday's race is scheduled to start at 3:10 pm EDT while Sunday's weekend finale goes green at 3:15 pm EDT.
Races and the weekend's qualifying sessions will be streamed live on GT-World-Challenge-America.com, with Sunday's Round 10 airing live on CBS Sports Network at 3pm EDT.
Both DXDT Racing teams come to The Glen with a string of 2019 podium finishes and in pursuit of their first race wins of the season in the competitive Blancpain GT World Challenge America Pro-Am division.
Askew and Dalziel scored a season-best runner-up finish in the No. 63 in Sunday's race at Canadian Tire Motorsport Park (CTMP) in May. The duo's first podium result of the season was a third-place finish in Saturday's race at VIRginia International Raceway (VIR) in April.
"I feel pretty good about Watkins Glen and the following race at Road America," Askew said. "The team has done well at both these tracks. We've had some back luck earlier in the year, but we are not really thinking about that. The focus this weekend will be to follow through on what we know we can do, which is bring home the podiums!"
Test sessions both at Watkins Glen and more recently on DXDT's home track in Salt Lake City kept the team sharp during the recent summer break.
"We had a really good test at Watkins Glen a little time back and feel confident that we are going back with a nice setup off the truck," Dalziel said. "Anybody who is not excited about going to Watkins Glen each time should not be racing professionally! It is a fantastic track. I can't wait!"
Kurtz and Braun are currently fifth in points in the Pro-Am championship heading into the six-race stretch run. Highlights this year include a season-best second-place Sunday race finish at VIR and a third-place Saturday showing at CTMP.
"Everyone at CrowdStrike is excited to return to competition in SRO America and the Blancpain GT World Challenge America series," Kurtz said. "Watkins Glen is one of the great, historic tracks in America."
Braun is a two-time race winner and former pole-sitter in Prototype competition at Watkins Glen.
"I'm really looking forward to getting back on track at Watkins Glen with the CrowdStrike team," Braun said. "It is a demanding track that throws many challenges at you as a driver, but it's one of my favorite tracks. I think it's going to be a good weekend for George, myself and the entire CrowdStrike team. DXDT Racing has been working hard to make our CrowdStrike Mercedes-AMG GT3 faster each week and the top step of the podium is within sight!"
A three-day event weekend, the Blancpain GT World Challenge Watkins Glen International presented by CrowdStrike gets underway with a pair of opening practice sessions Friday afternoon.
Qualifying for both races begins Saturday at 10:45 a.m. EDT and can be viewed live on GT-World-Challenge-America.com. Saturday's first 90-minute sprint of the weekend, which starts at 3:10 pm EDT, can also be seen live on GT-World-Challenge-America.com. Sunday's second and final round race airs live on CBS Sports Network at 3:15 pm EDT.
Noteworthy
- DXDT Racing, CrowdStrike and AWS are partnering with Operation Motorsport at this weekend's race. Operation Motorsport's mission is to engage service members and veterans ill or injured during their military service in motorsports activities to aid in their recovery and rehabilitation and open the door to a possible future career in motorsports. Sergeant Major Jason Leach, a 26-year-plus active-Army soldier, will be hosted by DXDT Racing as he takes a first step in pursuing his interests in owning or managing a race team after retiring from active service.
- An avid and experienced competitive sailor, Askew returned to the familiar environment of racing on the water during the recent World Challenge break. He and his brother Peter recently won the Fastnet Challenge Cup, the overall prize for the 2019 Rolex Fastnet Race. Aboard their VO70 Wizard, the brothers won the prestigious event, which is the Royal Ocean Racing Club's premier 600-mile offshore race. The Askew's victory ended a streak of wins by French teams that started in 2013. "I've been racing my sailboat in Europe the past couple months, so I'm recharged and ready to go," Askew said.