2019 News
Kurtz and Braun Secure Top-Five Finishes for DXDT Racing in No. 04 CrowdStrike/AWS/Accel/DXDT Mercedes-AMG GT3 in Blancpain GT World Challenge at Road America
- Fourth Place Pro-Am Finish Saturday by Kurtz and Braun in CrowdStrike No. 04 DXDT Racing's Weekend-Best Result in Road America Doubleheader
- Ryan Dalziel Qualifies Third in No. 63 USALCO/DXDT Racing Mercedes-AMG GT3 and Perseveres with Co-Driver and Team Owner David Askew Through Two Challenging Races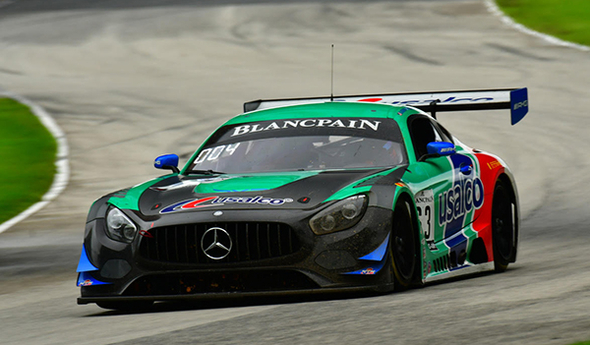 ELKHART LAKE, Wisconsin (September 23, 2019) – George Kurtz and Colin Braun gave DXDT Racing its best pair of race results this weekend co-driving the No. 04 CrowdStrike/AWS/Accel/DXDT Mercedes-AMG GT3 in a rainy Blancpain GT World Challenge America Saturday and Sunday doubleheader at Road America.
Kurtz and Braun scored a weekend-best fourth-place Pro-Am finish Saturday and followed it up with a fifth place showing in Sunday's second and final 90-minute race of the weekend in the CrowdStrike No. 04 Mercedes-AMG GT3.
"We had a good overall weekend for us," Braun said. "Our goal for the start of this year, with George being new to GT3 racing and stepping up to the Mercedes-AMG GT3, was to do all the laps in all of these races that we can and gain experience. We've knocked off a few podiums, but our big focus has been learning this whole year and making all the laps. George has done a great job of doing that."
Kurtz started Saturday's race and later handed the No. 04 to Braun who passed a Pro-Am competitor for fourth place in his closing stint. The task was a little tougher Sunday when Braun caught but couldn't quite get past a Pro class competitor.
"Saturday was good," Braun said. "I felt like we had a pretty fast Mercedes-AMG GT3 Sunday too, but I just got stuck behind one of the Pro class cars. I sat on his bumper for the whole race, obviously those guys are good and don't make a whole lot of mistakes, but I felt bad I got stuck behind him. There wasn't anything you can do."
The No. 63 USALCO/DXDT Racing Mercedes-AMG GT3 of driver and DXDT team owner David Askew and co-driver Ryan Dalziel also showed competitive pace at Road America. Dalziel clocked in third overall Saturday in qualifying for Sunday's race, but the No. 63 encountered in-race issues on both days.
Askew was running in the lead train of cars in the first half of Saturday's race when he was forced to the pits for an unscheduled stop with a punctured tire. Dalziel took over but didn't have enough time left to make up the lost ground and crossed the finish line in eighth place.
On Sunday, Askew, who ran as high as fourth early in his stint, was 10 minutes from the finish in the No. 63 when he encountered a slower car heading into Road America's high-speed "Kink" section. The No. 63 spun and sustained rear wing damage after a brush with the wall, but Askew was able to quickly recover and drive back to the pits
.
"Overall, I think the team made really good progress at Road America," Askew said. "George Kurtz passed a few cars and had a really good result for himself, and kudos to Ryan for putting it number three on the grid. He always gives it 110 percent. Every time he comes back from qualifying, he always tells the team that's the hardest he's ever driven a car. There's no lack of effort, I will assure you of that. I feel a little bad because I let our team down Sunday with a mistake in the Kink. Had a bump to the car, we lost the rear wing, couldn't continue and had to park it after I made it back to the pits."
Dalziel is typically positive despite the challenging weekend.
"There's lots of positives," Dalziel said. "We have the cars in a window that we like now. We feel like we're in a position to be challenging for overall and class poles. Two weekends in a row, we've shown that one-lap qualifying pace isn't a problem. We need to work on our race car."
The No. 63 sustained only minor damage in Sunday's incident and will be ready to go for next month's season-ending race in Las Vegas.
"It was a disappointing end," Dalziel said. "David was running behind a lapped car that maybe could have made it easier for him, and he just got some dirty air and made a mistake. It happens, the car is in one piece, David is safe, which is the most important part, and it could have been a lot worse. Lots of positives in the last couple of races for us, even with not being on the podium, but when we do go to Vegas, we should be able to get our Mercedes-AMG GT3s back in the top three."
The season-ending Blancpain GT World Challenge America race weekend will be held at Las Vegas Motor Speedway, October 18 – 20.