2022 News
Era Motorsport Achieves Back-to-Back Victories at Road America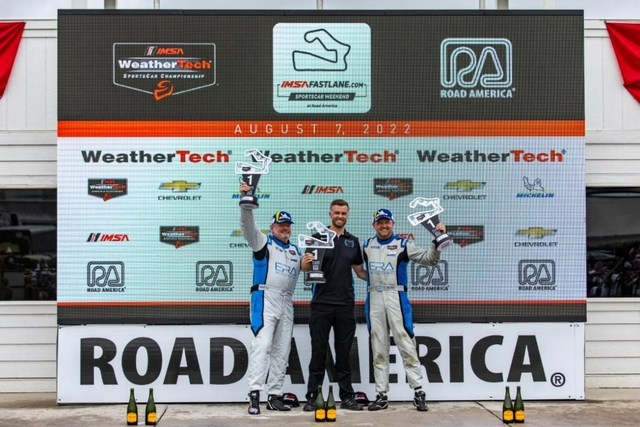 ELKHART LAKE, Wis., (August 8, 2022) — Era Motorsport revisited the IMSA WeatherTech SportsCar Championship victory circle at Road America this weekend, successfully defending their 2021 LMP2 class victory. Drivers Dwight Merriman and Ryan Dalziel drove a strong race in varying weather conditions, once again optimizing strategy and performance to celebrate their second consecutive win at the fan-favorite road course.

Following the team's run at the Sahlen's Six Hours of the Glen in June, the team completed a productive test, finding further ways to improve performance for the No. 18 Oreca LMP2 prototype. Feeling optimistic about the progress made, the drivers and crew at Era Motorsport entered the Road America race weekend cautiously optimistic as they looked to defend their 2021 victory.

The hopeful outlook continued into the two pre-race practice sessions, in which the blue Oreca outpaced the rest of the field, setting the fastest lap times in each session. Driver Dwight Merriman put in an impressive performance in the 15-minute qualifying session on Saturday, where the top four drivers stood separated by a mere 0.5 seconds. He set a fast lap time of 1:54.677, setting the team to start Sunday's race in third.

The two-hour, 40-minute race started under clear but overcast conditions, with a storm on the horizon predicted to visit the competitors during the sprint event. As the field roared towards the green flag, Merriman proceeded to make confident and decisive moves. At the start, he wisely slipped into fourth place, careful not to be a part of any early-race attrition.

The skies eventually opened during the first stint of the race, forcing the majority of the field to pit for rain tires. Merriman went out on scrubbed tires. positioned himself with intent, eager to battle his way up the grid. His moment to fight came roughly 30 minutes into the race when he battled three-wide on the front stretch for position. He succeeded, securing second place by the end of his stint.

He pitted for fuel and tires, and Ryan Dalziel took over as the chaos of the race increased with the rain. Competitors careened off course, colliding into other cars and sections of the course. Dalziel's tires warmed up and he immediately set strong pace laps, running fifth and hitting the team's pace and fuel targets. A series of cautions continued to temporarily suspend the racing action, and Dalziel stood third with less than 40 minutes remaining.

In the final sprint to the checkered flag, Dalziel and the rest of the field found themselves fighting for position on a rapidly drying track. He made the pass for the lead in Canada Corner with ten minutes remaining and sailed to the checkered flag. Era Motorsport claimed their first victory of the year with a 0.7-second lead, over the No. 8 Tower Motorsports LMP2 car. The victory moves the pair and the team up from fourth in the team and driver championship standings to second place.

The 2022 IMSA WeatherTech SportsCar Championship will conclude October 1 at Road Atlanta's Petit Le Mans, a 10-hour endurance race with all five of the series classes. For more information, visit imsa.com.


DRIVER QUOTES
Dwight Merriman
It's pretty amazing to win back-to-back years at Road America. It was a really tough race, and super close. It was very competitive, especially with the damp conditions and the on and off rain. But everybody did a great job. The crew had really good pit stops, and the car was fast. Ryan also did a great job closing out the race.

Ryan Dalziel
It's amazing to win at Road America. I don't know what it is here that we have such a strong car—last year and this year. Last year was a little bit of an easier race. We came back from last today—almost a lap down. We had the fastest car on track and great pit stops. We went a little bit off sequence with our tire choice, but we knew the track was going to come in our favor. The strategy call also put us on a less aggressive fuel strategy. We got back up to the front on one of those greens by having less fuel in the car. For the final pass, there were a couple of times where I could have stuck it in there, but I backed out. The leader had a bad run out of the Carousel, so I had a good run on him. Great job by everyone. It was a great points day.

About Era Motorsport
Era Motorsport was formed in 2018 with the idea of providing unmatched excellence in historic racing. Just two years later, the team expanded to the world of professional sports car racing, fielding an Oreca 07 in the prolific IMSA WeatherTech SportsCar Championship and the 24 Hours of Le Mans. In 2021, the team went on to win at the iconic Rolex 24 At Daytona, in what was their second attempt competing in the event. Motorsport isn't just a hobby, it is a way of life: a passion that is in the team's blood. Whether you find us in the IMSA WeatherTech paddock with modern prototypes or chasing down lap records in our fully restored classic sports cars, or even globetrotting to experience historic F1 at some of the world's most iconic circuits, Era Motorsport has something for everyone. In 2021, the team secured a prestigious victory at the Rolex 24 At Daytona, and also became class champions in the Asian Le Mans Series.