2016 News
Tequila Patrón ESM Produces Top Five Finish in China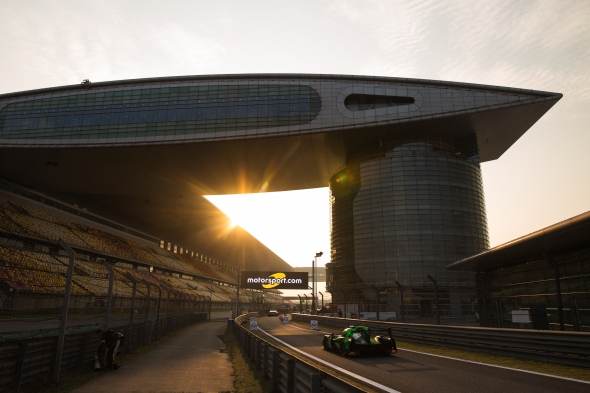 Sunday evening at Shanghai International Circuit, Tequila Patrón ESM earned their seventh top five finish of the weekend in the 2016 FIA World Endurance Championship. The 6 Hours of Shanghai ran under the green flag for the majority of the event, where the Ligier ran error free and finished a fifth place after starting in ninth place.
Dalziel showed a strong race start, gaining two positions in the opening lap before the race went under safety car for two laps. At the end of his 50 minute stint, Dalziel pitted in sixth, strategically setting up Chris Cumming to rejoin in fifth position. Despite heavy race traffic, Cumming ran a clean stint, at one point dropping to ninth in the LMP2 class, but a consistent run brought him back up to sixth at the two hour mark. Dalziel rejoined in seventh, and quickly climbed up to fifth before his stint ended shortly after the halfway point.
With two and a half hours remaining, Dalziel pitted from sixth, allowing Pipo Derani to take over and turn his first laps of the race.  Derani ran an error free triple stint, finishing the penultimate in fifth place. The final race of the 2016 FIA World Endurance Championship will take place in two weeks, and the field will take the last checker of the season November 19 at the 6 Hours of Bahrain. For schedule information visit fiawec.com.
Driver Quotes:
Ryan Dalziel
We had a difficult weekend. We had some engine issues, and we ended up making continuous changes every day. We just don't seem to have the speed we want at this point in the year. We're doing our best and we have great strategy, so hopefully we can get back on the podium and finish off the season strong in Bahrain.
Chris Cumming
This was maybe our best overall performance of the year, if not the best result.  The car was fast and consistent throughout the race, and everyone performed well with no mistakes.  With a bit of luck we could have been on the podium.
Pipo Derani
We had a good car again. It was a fast car in a long race. I did two and a half hours in the end. The car was great. Unfortunately, we lost some time in the beginning again. No big problems, but we lost a little bit of time, which was tough to get back.. The team did a great job. There were no mistakes from anyone, so I think that's a positive. Let's keep doing this for Bahrain. One more to go, and the season is finished.