2016 News
Tequila Patrón ESM Makes Preparations to End WEC Season on High Note at Bahrain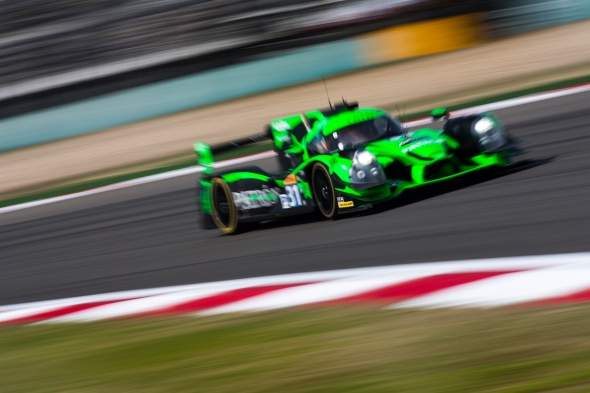 This weekend, the Middle East will host the season finale for the 2016 FIA World Endurance Championship season. After starting the season with a second place finish at the 6 Hours of Silversone, Tequila Patrón ESM hopes to finish the season with the No. 31 Nissan powered Ligier JS P2 again on the podium. In the eight races competed thus far, Tequila Patrón ESM earned four podiums and an additional three top five finishes.
The Bahrain International Circuit held its first FIA WEC event in 2012, and will celebrate its fifth anniversary this weekend with 92 drivers in 30 cars competing in the four classes. With 24 turns, the 3.914 endurance circuit will be the final battle ground for the 2016 race season.
Despite a string of difficult races, Tequila Patrón ESM has defeated the odds to find speed and utilize strategy to still finish in the top five positions for the last five races. In 2015, the team suffered broken suspension in Bahrain, resulting in both cars spending ample time in the garage during the race. Now down to its final allocated race engine for the year, the team will be using every resource to end the season with a strong note.
With the recent announcement of the team's return to the IMSA WeatherTech SportsCar Championship, the 6 Hours of Bahrain will mark Tequila Patrón ESM's final FIA WEC race for the foreseeable future. The team will continue its partnerships with Nissan Motorsport an Onroak Racing in the United States for the two car 2017 IMSA campaign.
Driver Quotes

Ryan Dalziel
It has been a long season, filled with ups and downs, so it's a little bitter sweet to be going into our final race of 2016. Our race pace in China was one of the best on track, so we have what it takes to compete for a podium. The Patrón ESM crew have worked their butts off all season, so I hope we can deliver them a final WEC podium going into the busy off season.

Chris Cumming
It's hard to believe it's already the last race of the season.  With the improved performance we've enjoyed in the last few races, I'd like to keep going!  I look forward to closing the season on a good note.

Pipo Derani
We now arrive in Bahrain for the last race of the season with hope of adding one more podium finish to our campaign. The last couple of races haven't been easy as we are fighting a little lack of speed with our engine which cannot be replaced as we are already using our last allocated engine for the season. Despite that, we have still shown great pace but unfortunately with no safety cars we had no chance to make up the lost time in the beginning of both races. Hopefully our luck will turn around for the last race of the season! Fingers crossed.