2017 News
Tequila Patrón ESM Returns to Sebring to Defend Twelve Hour Win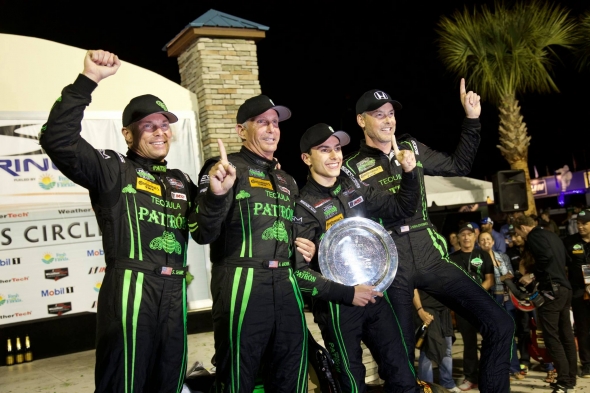 SEBRING, Fla., – When Tequila Patrón ESM captured the win at the 2016 Mobil 1 Twelve Hours of Sebring Presented by Fresh from Florida, they had become the first team in 18 years to win both the Twelve Hour and the 24 Hours of Daytona in the same year. This weekend, Tequila Patrón ESM returns to the 65th running of the historic event with a two car assault, in hopes of again claiming top honors.

The No. 2 Nissan Onroak DPi will be piloted by full time drivers Scott Sharp and Ryan Dalziel, who will be joined by last year's breakout driver, Pipo Derani. The No. 22 Nissan Onroak DPi will also maintain its Daytona lineup with full time drivers Ed Brown and Johannes van Overbeek to be joined by Brendon Hartley and Bruno Senna. This will mark Hartley's first attempt at the Twelve Hour, while this event is the only other race in the United States Senna has participated in, outside of the 24 Hours of Daytona.



The Florida-based team previously participated in the IMSA WeatherTech SportsCar Championship test at Sebring International Raceway in February, continuing to learn more about the cars, which are still fairly new to the team. Sebring is a particularly demanding race track, built on World War II era airport runways, comprised of mostly asphalt and patches of concrete. Many parts of the track surface remain in their original state, making for a bumps that challenge the endurance fitness of the drivers, and push the cars to the limit. The Twelve Hours of Sebring also brings a variety of weather conditions, ranging from sunny skies and warm temperatures to chilly nights and a wet track.

Another goal of Tequila Patrón ESM will be to gain valuable points towards the Tequila Patrón North American Endurance Cup (TPNAEC), a four race endurance championship within the full season championship. The TPNAEC awards points at various intervals throughout the race in addition to at the checker flag, allowing teams to gain valuable points despite not taking home the win. Points for the Twelve Hours of Sebring will be awarded at the four, eight, and 12 hour marks. Tequila Patrón ESM currently sits ___ in the Prototype class standings.

The 65th Mobil 1 Twelve Hours of Sebring Fueled by Fresh from Florida will air on FS1 from 12:30PM ET to 11:00PM ET. Race fans can also watch via the FOX Sports Go app from 10:30AM ET to 11:00PM ET. For more information, visit imsa.com.

Driver Quotes

Scott Sharp | No. 2 Nissan Onroak DPi
It's super exciting for Tequila Patrón ESM to return to Sebring as the defending champions! We have our work cut out for us with some strong competition! Everyone at ESM, Nissan and Onroak have been busting their tails to keep improving our cars. We are also excited to welcome back Bruno and Brendon! We should have two strong cars!

Ryan Dalziel | No. 2 Nissan Onroak DPi
I love Sebring! It's somewhere really special to me for a number of reasons, mainly that my wife is originally from the area, but it is just a fantastic event. Daytona was not what we were hoping for as defending champions, so we are hoping we can better defend our Sebring 12 hour crown this weekend. The entire Patrón ESM, NISSAN NISMO and Onroak crews have been working tirelessly to make up for lost ground. I think we will have something for those Cadillacs.

Pipo Derani | No. 2 Nissan Onroak DPi
We come to Sebring this weekend with great memories as a team of what we achieved last year. Daytona was encouraging as the car performed well but inevitably we had to adapt to a few issues along the way. We know we have a great car and a fantastic team. We only ran the car for the first time two months ago at the Roar test in Daytona, so we are still learning about the car. Sebring will be a good test on all levels.

Ed Brown | No. 22 Nissan Onroak DPi
Not available for comment.

Johannes van Overbeek | No. 22 Nissan Onroak DPi
Tequila Patrón ESM is ready for the 65th annual running of the Twelve Hours of Sebring. Nissan has been working hard on our behalf, we've tested and learned lessons from Daytona. I'm looking forward to getting started with Ed, Brendon, and Bruno.

Brendon Hartley | No. 22 Nissan Onroak DPi
I'm really looking forward to my first Twelve Hours of Sebring; it's a race I've always wanted to do. The team has worked hard since Daytona, and I remain very optimistic for a shot at spraying some champagne next Sunday.

Bruno Senna | No. 22 Nissan Onroak DPi
The Twelve Hours of Sebring is the only U.S. race I've done before, and I've been looking forward to coming back for the last few years. Since Daytona, the team has been working relentlessly to get the car in good shape for the race, so we're going to push hard to get a good result this week!