2017 News
Tequila Patrón ESM Looks to Continue Success in Austin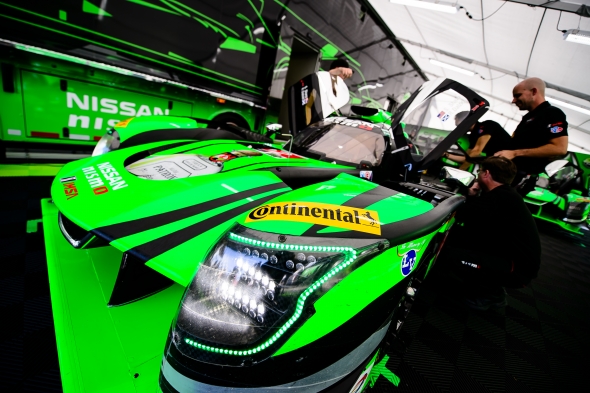 AUSTIN, TX. — Riding the momentum of a strong second place finish on the streets of Long Beach, California, Tequila Patrón ESM journeyed to Austin, Texas to test their Nissan Onroack DPis at Circuit of the Americas (COTA) to prepare for the next round in the IMSA WeatherTech SportsCar Championship. This weekend, COTA will be host to the Advance Auto Parts Sportscar Showdown, the fourth race in the 2017 IMSA Championship.
The team tested for two days at the 3.4 mile course, determined to improve on the continued progress the new Nissian Onroak DPi program. Offering both high and low speed corners, two long straights, and an elevation change of 133 feet, the track can be challenging to find the right set up for. With the test complete, the team found a solid baseline for the No. 2 and No. 22 car setups heading into the sprint weekend.
The podium finish at the Grand Prix of Long Beach boosted the No. 2 Nissan Onroak DPi of Scott Sharp and Ryan Dalziel to fourth place in the IMSA Championship team standings, with three rounds complete. The No. 22 Nissan Onroak DPi also showed progress and is tied for eighth, just 14 points away from the other team car.
The two hour and forty minute race takes place Saturday, May 6 at 1:35PM Central. Fans can watch live from inside the cars at imsa.tv, or catch the delayed broadcast at 7:00PM Eastern on FOX Sports 1.
Driver Quotes
Scott Sharp
Tequila Patrón ESM's performance at Long Beach was a big boost to all of our team guys, Onroak, and Nissan-NISMO for the fantastic effort that each of them have put forth the last several months. We continue to work very hard and are pushing for an even better result in Austin!
Ryan Dalziel
We had a really good race at Long Beach, followed with a productive two days test at COTA, so I'm really confident on our Nissan DPi package for the race. COTA is never an easy track to set a car up for. With a mix of high speed, low speed corners, finding the correct balance for downforce is always tough. We believe we are making big gains with our Patrón ESM cars and I am a huge fan of Austin, so looking forward to getting started and continuing our podium streak
Ed Brown
I'm looking forward to racing at COTA it's such a cool track! The Tequila Patrón ESM team has continued to make improvements to our cars so we're looking forward to a good race from both cars!
Johannes van Overbeek
COTA is one of my favorite events. The track is fast and challenging and the team has had decent success there in the past. We are fortunate enough to have tested there so I feel like we have a good baseline to start the weekend with. Ed and I are looking forward to the race on Saturday, May 6th.