2017 News
Tequila Patrón Celebrates Cinco de Mayo with Strong Qualifying Effort in Austin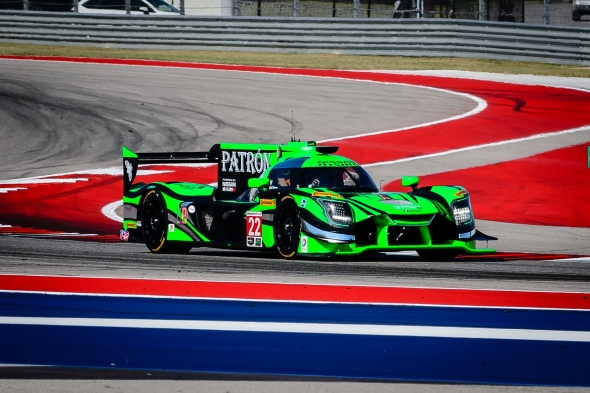 AUSTIN, Tex., (May 5, 2017) – Today at Circuit of the Americas, the No. 22 Tequila Patrón ESM Nissan Onroak DPi gave its strongest qualifying performance of the season, with drivers Ed Brown and Johannes van Overbeek. With a fast lap time of 1:56.401, van Overbeek qualified the car to start in second position in Saturday's Advance Auto Parts Sportscar Showdown.
Coincidently enough, the qualifying session landed on the same day as Cinco de Mayo, a day dear to the team as well as President and CEO of Patrón Spirits, Ed Brown. The team arrived at Circuit of the Americas chasing the setup of the Nissan Onroak DPi cars, but utilized the three practice sessions to find more speed. While still 1.6 seconds off of pole position, the No. 22 Nissan Onroak DPi's fastest qualifying lap was enough to land in second in the highly competitive field. The sister car of Scott Sharp ran a predictive lap to take third, but lost the lap after being held up by traffic. The No. 2 Nissan Onroak DPi will start sixth.
Heat will be sure to play a role in Saturday's race. While qualifying took place in 80 degree temperatures, the race day temperatures are predicted to be at 89, affecting the track grip and tire management for the two hour and forty minute event.
Round four of the IMSA WeatherTech Sportscar Championship takes place Saturday, May 6 at 1:35PM Central. Fans can watch live from inside the cars at imsa.tv, or catch the delayed broadcast at 7:00PM Eastern on FOX Sports 1.
Johannes van Overbeek | No. 22 Nissan Onnroak DPi
It was a good result, everything considered. The Patrón ESM guys have been chasing the setup all weekend, and this is the best the car has been. We still have a ways to go. It's good in qualifying, but the race will be a challenge and a struggle with the heat, I fear. Hats off to our engineer Matthieu for sticking with it and giving us a great car for qualifying.
Ed Brown | No. 22 Nissan Onnroak DPi
Today people think today is Cinco de Mayo, but it's really Cinco de Patrón. On this day, my teammate went ahead and put us in second. I'm really proud of the whole team. Both cars came a long way. We struggled when we came out of the truck. Each session we got better and better. This is a work in progress. I'm really happy for the team, but really happy for my teammate and myself. We're starting second tomorrow and will hopefully have a good race.
Scott Sharp | No. 2 Nissan Onnroak DPi
Great run in qualifying for the No. 22! Johannes did a great job of maximizing everything. I got a bit stuck in traffic, and when finally clear, the sweet spot of the tires was gone. The team has done a great job and we just need to focus on the race.
Ryan Dalziel | No. 2 Nissan Onnroak DPi
Great job from Johannes. I'm happy for him and Ed. The lap times are about where we expected to be. We thought we'd be a second or so off the Cadillacs. I'm a little surprised why the Action Express cars didn't post quicker times. Front row for the No. 22. Scott Sharp had a P3 lap going, but got held up by the JDC car again. Seems like that happens quite consistently. It is what it is. It would have been nice to have been second and third for Cinco de Mayo, but we have pace, and hopefully over the distance of the race, we can stick with the Cadillacs. We're unsure of our race pace, and there's a full second gap on every race lap, it'll be an easy race for them. We will rest tonight, try to make the cars better, and try to get a podium for tomorrow.