2017 News
Austin Ends in Disappointment for Tequila Patrón ESM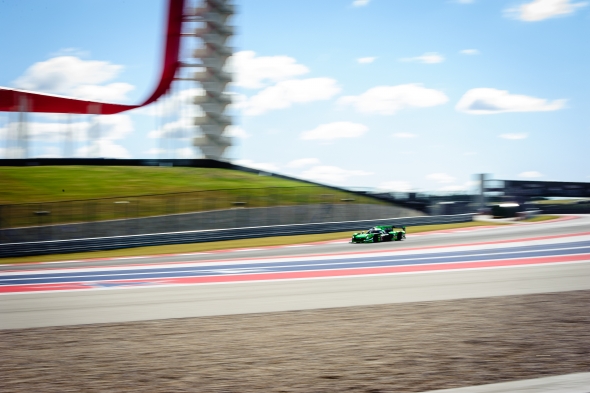 AUSTIN, Tex., (May 6, 2017) – After showing encouraging progress over the course of the week at Circuit of the Americas, the Advance Auto Parts Sportscar Showdown ended in disappointment for Tequila Patrón ESM and their pair of Nissan Onroak DPis. The No. 22's chance at a podium finish ended when contact from a lapped car forced the team to pit off strategy, and a late race fire ended the No. 2's race with less than ten minutes to go.
Johannes van Overbeek qualified the No. 22 in second place, locking in a strong starting position for Round 4 of the IMSA WeatherTech SportsCar Championship. Scott Sharp and the No. 2 Nissan Onroak DPi started four places behind in third. While the leaders quickly pulled away from the field, the Tequila Patrón ESM cars held strong to their positions. Thirty minutes in, van Overbeek had contact with a lapped car, sending him to the pits for a quick check and repair. He rejoined in eighth, but quickly took over seventh position, with Sharp just ahead in sixth. At the one hour mark, the race went full course caution, showing Sharp running in the top five. Ed Brown took over under caution for the No. 22, and proceeded to complete his required minimum drive time of ten minutes. He proceeded to give the wheel back to van Overbeek who rejoined in seventh.
With just over an hour to go, Sharp pitted in sixth for Ryan Dalziel to take over and work his way up to fourth. Trouble for the No. 5 Cadillac moved the No. 2 car up to third place, and Dalziel fought hard to defend position from Stephen Simpson, and kept the position. With a podium finish in sight, trouble appeared with less than 15 minutes remaining on the race clock. While the data in pit lane reported high oil temperatures, no problem presented itself until the final laps when smoke began to appear at the rear of the car. Just moments later, the car erupted in flames and Dalziel safely pulled the car off course. The safety workers promptly put the fire out, and the field went back to green for the final two laps. The fate of the No. 2 benefitted the No. 22 and Johannes van Overbeek moved up to secure a fifth place finish.
Round five of the IMSA WeatherTech SportsCar Championship will take place June 2-3, in Detroit, Michigan, on the streets of Belle Isle. For schedule information, visit imsa.com.
Scott Sharp | No. 2 Nissan Onroak DPi
Our race started off pretty promising. Johannes did a great job in qualifying and held his position for a long time, running great laps. He got in trouble with a lapped car and hung in there. It looked like they were going to be able to stay on the lead lap. Then they started having boost related issues, which affected their performance. As for our car, we hung in there. It was very slippery out there, but we were running in the top five. We took advantage of people's issues. Ryan did a great job, running third. In the last hour, we started to have a high oil temperature. The car started to smoke, but all the data looked fine. We thought maybe some oil was spitting onto the exhaust, possibly causing the smoke. Unfortunately, those things don't usually heal themselves. We hoped we could get to the end, but a couple laps later he was out, and the marshals did a great job putting the fire out and getting Ryan safely out of the car.
Ryan Dalziel | No. 2 Nissan Onroak DPi
It is a disappointing result. We had a really encouraging race pace. We dialed in the car with every stint and got the tires to last longer. The team did a great job, and the strategy was good. I think only the 31 and the 10 had legs on us. We obviously had a failure of some kind. It's disappointing and I'm glad the car isn't too burnt up. The safety crew did an incredible job getting to the car in time. They were there before I even got out of the car. It's great to have those guys there with us. We'll put it back together and see if we can beat Cadillac on their home turf.
Ed Brown | No. 22 Nissan Onroak DPi
It was another disappointing weekend. Both cars had speed. Unfortunately for the No. 2 car, they were running in third place and then had a fire. Johannes had a great start, but unfortunately he had some contact, which changed our strategy. We'll live to go to Detroit.
Johannes van Overbeek | No. 22 Nissan Onroak DPi
That was a little anti-climactic. We had absolutely nothing for the No. 10 car. I got caught up in slower traffic, and had a miscommunication with a slower car. We got back out, and we just lost track position. The Tequila Patrón ESM guys put together a great car for us. I'm disappointed with 5th after starting second and running second, but it's as good as we could do today.