2018 News
Tequila Patrón ESM Heads to Laguna Seca for Continental Monterey Grand Prix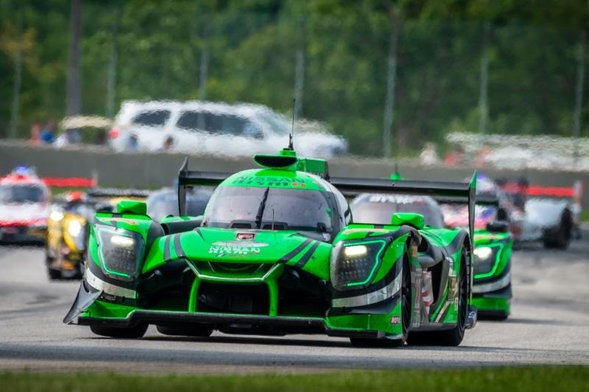 MONTEREY, Cal., – This weekend, the IMSA WeatherTech SportsCar Championship returns to the newly renamed WeatherTech Raceway Laguna Seca for round nine of the 2018 prototype championship. The 2018 season has proven to be a challenging one for Tequila Patrón ESM, but the two car Nissan prototype team is ready for the final two races of the season, starting with the Continental Monterey Grand Prix in central California.
The pair of Nissan Prototypes struggled with top speed at the previously round at Road America, but still persevered in a chaos-filled race to climb up from the back of the field to have both cars finish in the top six. This weekend's event will include three practices and one qualifying session, leading up to Sunday's final warm up and two hour and 40 minute race.
Ed Brown and Johannes van Overbeek won the event from pole position in 2014, and the team holds three podium finishes in their three attempts at the iconic road course. WeatherTech Raceway Laguna Seca is one of the most iconic tracks on the IMSA schedule, with 11 turns in its 2.238 mile length. Built in 1957, the track is known for its iconic corkscrew; a 109 foot drop between turns eight and nine.
The Continental Monterey Grand Prix will be the final sprint race of the weekend, followed next month by the endurance season finale, Petit Le Mans, which Tequila Patrón ESM won in 2017. The field will take the green flag Sunday, September 9 at 2:05PM Pacific, airing live it its entirety on FS1. Radio Le Mans will offer live coverage of every weekend session via the IMSA or TuneIn app. For full schedule information, visit imsa.com.
Driver Quotes
Scott Sharp | No. 2 Nissan Onroak DPi
The Tequila Patrón ESM team has been working extremely hard since Road America to continue to improve our Nissan DPI's and get another win in this year. And for that I would like to thank each team member for all their hard work! Laguna Seca is one of the most beautiful, picturesque and exhilarating tracks in the world! ESM has run well in the past at Laguna and we are very anxious to climb to the top of the charts this weekend.
Ryan Dalziel | No. 2 Nissan Onroak DPi
Laguna is one of the greatest race tracks in the world, and hopefully the turning point for the #2 car. At Road America, we lacked race pace and missed the luck we needed in strategy. For sure, it has been a low blow last couple of months for us, but nobody has given up. We are more motivated than ever to finish the season strong, and that starts this weekend.
Johannes van Overbeek | No. 22 Nissan Onroak DPi
It's always a pleasure coming back to Laguna Seca with Tequila Patrón ESM. We've had success in the past including a pole, a win and some podiums. It's always a challenge finding a set up that works on the slippery twists and turns of this iconic circuit but our guys are up to the challenge. I'm looking forward to joining Pipo again to fight at the front during this always tough 2 hour and 40 minute race.
Pipo Derani | No. 22 Nissan Onroak DPi
I really can't wait to go back to California to race at Laguna Seca. It is an awesome circuit but very challenging as well. There's a lot of sand that keeps changing the track lap after lap and is not an easy place to pass so the racing is very tight and exciting. We showed good pace at Road America and we'll be looking to continue the last few races of the year on a strong note.